OCRS: the bane of your operation?
11th July 2013
Page 10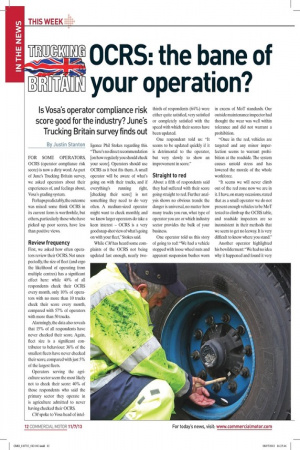 Page 11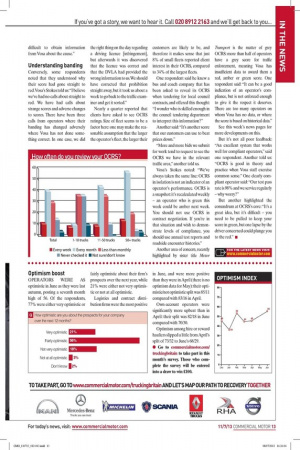 Page 10, 11th July 2013 —
OCRS: the bane of your operation?
Close
Is Vosa's operator compliance risk score good for the industry? June's Trucking Britain survey finds out By Justin Stanton FOR SOME OPERATORS, OCRS (operator compliance risk score) is now a dirty word. As part of June's Trucking Britain survey, we asked operators about their experiences of and feelings about, Vosa's grading system.
Perhaps predictably,the outcome was mixed: some think OCRS in its current form is worthwhile, but others, particularly those who have picked up poor scores, have less than positive views.
Review frequency First, we asked how often operators review their OCRS. Not unexpectedly, the size of fleet (and ergo the likelihood of operating from multiple centres) has a significant effect here: while 40% of all respondents check their OCRS every month, only 10% of operators with no more than 10 trucks check their score every month, compared with 57% of operators with more than 50 trucks.
Alarmingly, the data also reveals that 15% of all respondents have never checked their score. Again, fleet size is a significant contributor to behaviour: 36% of the smallest fleets have never checked their score, compared with just 5% of the largest fleets.
Operators serving the agriculture sector seem the most likely not to check their score: 40% of those respondents who said the primary sector they operate in is agriculture admitted to never having checked their OCRS.
CM spoke to Vosa head of intel ligence Phil Stokes regarding this. "There's no direct recommendation [on how regularly you should check your score]. Operators should use OCRS as it best fits them. A small operator will be aware of what's going on with their trucks, and if everything's running right, [checking their score] is not something they need to do very often. A medium-sized operator might want to check monthly, and we know larger operators do take a keen interest — OCRS is a very good snap-shot view of what's going on with your fleet," Stokes said.
While CM has heard some complaints of the OCRS not being updated fast enough, nearly two thirds of respondents (64%) were either quite satisfied, very satisfied or completely satisfied with the speed with which their scores have been updated.
One respondent told us: "It seems to be updated quickly if it is detrimental to the operator, but very slowly to show an improvement in score."
Straight to red About a fifth of respondents said they had suffered with their score going straight to red. Further analysis shows no obvious trends: the danger is universal, no matter how many trucks you run, what type of operator you are or which industry sector provides the bulk of your business.
One operator told us this story of going to red: "We had a vehicle stopped with loose wheel nuts and apparent suspension bushes worn in excess of MoT standards. Our outside maintenance inspector had thought the wear was well within tolerance and did not warrant a prohibition.
"Once in the red, vehicles are targeted and any minor imperfection seems to warrant prohibition at the roadside. The system causes untold stress and has lowered the morale of the whole workforce.
"It seems we will never climb out of the red zone now we are in it. I have, on many occasions, stated that as a small operator we do not present enough vehicles to be MoT tested to climb up the OCRS table, and roadside inspectors are so inconsistent in their methods that we seem to get no leeway. It is very difficult to know where you stand."
Another operator highlighted his bewilderment: "We had no idea why it happened and found it very difficult to obtain information from Vosa about the cause."
Understanding banding Conversely, some respondents noted that they understood why their score had gone straight to red.Vosa's Stokes told us:"I believe we've had no calls about straight to red. We have had calls about strange scores and adverse changes to scores. There have been three calls from operators where their banding has changed adversely where Vosa has not done something correct. In one case, we did the right thing on the day regarding a driving licence [infringement], but afterwards it was discovered that the licence was correct and that the DVLA had provided the wrong information to us.We should have corrected that prohibition straight away, but it took us about a week to go back to the traffic examiner and get it sorted."
Nearly a quarter reported that clients have asked to see OCRS ratings. Size of fleet seems to be a factor here: one may make the reasonable assumption that the larger the operator's fleet, the larger their customers are likely to be, and therefore it makes sense that just 8% of small fleets reported client interest in their OCRS, compared to 34% of the largest fleets.
One respondent said he knew a bus and coach company that has been asked to reveal its OCRS when tendering for local council contracts, and offered this thought: "I wonder who is skilled enough in the council tendering department to interpret this information?"
Another said: "It's another score that our customers can use to beat prices down."
"More and more bids we submit for work tend to request to see the OCRS we have in the relevant traffic area," another told us.
Vosa's Stokes noted: "We've always taken the same line: OCRS in isolation is not an indicator of an operator's performance. OCRS is a snapshot: it's recalculated weekly an operator who is green this week could be amber next week. You should not use OCRS in contract negotiation. If you're in that situation and wish to demonstrate levels of compliance, you should use annual test reports and roadside encounter histories."
Another area of concern, recently highlighted by sister title Motor Transport is the matter of grey OCRS: more than half of operators have a grey score for traffic enforcement, meaning Vosa has insufficient data to award them a red, amber or green score. One respondent said: "It can be a good indication of an operator's compliance, but is not enforced enough to give it the respect it deserves. There are too many operators on whom Vosa has no data, or where the score is based on historical data."
See this week's news pages for more developments on this.
But it's not all poor feedback: "An excellent system that works well for compliant operators," said one respondent. Another told us: "OCRS is good in theory and practice when Vosa staff exercise common sense." One clearly compliant operator said: "Our test pass rate is 98% and we service regularly — why worry?"
But another highlighted the conundrum at OCRS's core: "It's a great idea, but it's difficult — you need to be pulled to keep your score in green, but one lapse by the driver concerned could plunge you to the red." •