Canning Logistics report to go to DTi
11th July 1996
Page 7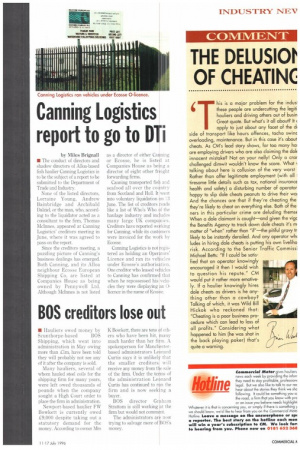 Page 7, 11th July 1996 —
Canning Logistics report to go to DTi
Close
by Miles Brignall • The conduct of directors and shadow directors of Alloa-based fish haulier Canning Logistics is to be the subject of a report to be submitted to the Department of Trade and Industry.
None of the listed directors, Lorraine Young, Andrew Bainbridge and Archibald Dalziel, or the man, who, according to the liquidator acted as a consultant to the firm, Thomas McInnes, appeared at Canning Logistics' creditors meeting in June, where it was agreed to pass on the report.
Since the creditors meeting, a puzzling picture of Canning's business dealings has emerged. Both Canning, and its Alloa neighbour Ecosse European Shipping Co, are listed at Companies House as being owned by Pennywell Ltd. Although McInnes is not listed as a director of either Canning or Ecosse, he is listed at Companies House as being a director of eight other freight forwarding firms.
Canning transported fish ard seafood all over the counti y from Scotland and Hull. It went into voluntary liquidation on :3 June. The list of creditors reads like a list of Who's Who of the haulage industry and includes many large UK companies. Creditors have reported workiiig for Canning, while its customers were invoiced for the work by Ecosse.
Canning Logistics is not registered as holding an Operators' Licence and ran its vehicles under Ecosse's authorisation. One creditor who leased vehicles to Canning has confirmed that when he repossessed his vehicks they were displaying an °licence in the name of Ecosse.