HAND IN GLOV
11th July 1996
Page 60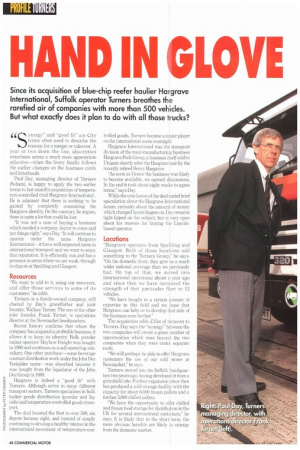 Page 61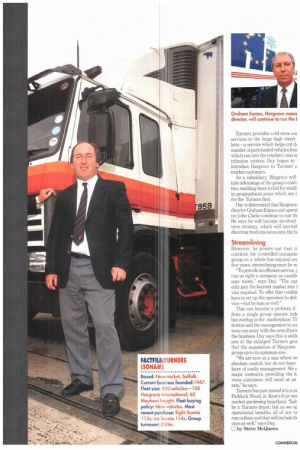 Page 60, 11th July 1996 —
HAND IN GLOV
Close
Since its acquisition of blue-chip reefer haulier Hargrave International, Suffolk operator Turners breathes the rarefied air of companies with more than 500 vehicles. But what exactly does it plan to do with all those trucks?
' ( .i..ncrgy" and "good fit" are city terms often used to describe the r...asons for a merger or takeover. A year or two down the line, absorption sometimes seems a much more appropriate adjective—when the livery finally follows the earlier changes on the business cards and letterheads. .
Paul Day, managing director of Turners (Soham), is happy to apply the two earlier terms to last month's acquisition of temperature-controlled rival Hargrave International . He is adamant that there is nothing to be gained by completely consuming the Hargrave identity On the contrary he argues, there is quite a lot that could be lost.
"It was not a case of buying a business which needed a company doctor to come and put things right," says Day. "It will continue to operate under the name Hargrave International—it has a well-respected name in international transport and we want to enjoy that reputation. It is efficiently run and has a presence in areas where we are weak, through its depots at Spalding and Glasgow.
Resources
"We want to add to it, using our resources, and offer those services to some of its customers." he adds.
Turners is a family-owned company, still chaired by Day's grandfather and joint founder. Wallace Turner. The son of the other joint founder. Frank Turner, is operations director at the Newmarket headquarters.
Recent history confirms that where the company has acquired a profitable business, it allows it to keep its identity. Bulk powder tanker operator Mayhew Freight was bought in 1986 and continues as a self-operating subsidiary. One other purchase—some beverage contract distribution work under the John Dee Yorkshire name—was absorbed because it was bought from the liquidator of the John Dee Group in 1989.
Hargrave is indeed a "good fit" with Turners. Although active in many different transport sectors. Turners specialises in bulk tanker goods distribution (powder and liquids) and temperature-controlled goods transport.
The deal boosted the fleet to over 500, six depots became eight. and instead of simply continuing to develop a healthy interest in the international movement of temperature-con trolled goods, Turners became a major player on the international scene overnight.
Hargrave International was the transport division of the meat-manufacturing business Hargrave Pork Group, a business itself sold to Unig-ate shortly after the Hargrave sale by the recently retired Henry Hargrave.
As soon as I knew the business was likely to become available, we opened discussions. In the end it took about eight weeks to agree terms," says Day.
While the conclusion of the deal ended brief speculation about the Hargrave International future, curiosity about the amount of money which changed hands lingers on. Day remains tight-lipped on the subject, but is very open about his reasons for buying the Lincolnbased operator.
Locations
"Hargrave operates from Spalding and Glasgow. Both of those locations add something to the Turners Group," he says. "On the domestic front, they give us a much wider national coverage than we previously had. On top of that, we moved into international operations about a year ago and since then we have increased the strength of that particular fleet to 12 vehicles.
"We have bought in a certain amount of expertise in this field and we hope that Hargrave can help us to develop that side of the business even further."
The acquisition adds £15m of turnover to Turners. Day says the "synergy" between the two companies will create a great number of opportunities which were beyond the two companies when they were under separate roofs.
"We will perhaps be able to offer Hargrave customers the use of our cold stores at Newmarket," he says.
Turners moved into its Suffolk headquarters two years ago, having developed it from a greenfield site. Further expansion since then has produced a cold storage facility with the capacity for about 6,000 frozen pallets and a further 3,000 chilled pallets.
"We have the opportunity to offer chilled and frozen food storage for distribution in the UK for several international customers," he says. It is likely that in the short term, the more obvious benefits are likely to emerge from the domestic market. Turners provides cold store cot services to the large high street kets—a service which helps cut dc number of part-loaded vehicles fron which run into the retailers' own re tribution centres. Day hopes to introduce Hargrave to Turners a market customers.
As a subsidiary, Hargrave will take advantage of the group's cold ties, enabling them to bid for similz in geographicl areas which are for the Turners fleet.
Day is determined that Hargrave director Graham Eames and operal tor John Clarke continue to run tht He says he will become involved term strategy, which will inevitat directing fresh resources into the hi
Streamlining
However, he points out that ir continue the controlled expansio group as a whole has enjoyed ow five years, streamlining must be m
"To provide an efficient service, 3 run as tight a company as possib nate waste," says Day. "The cus only pay the keenest market rate vice required. To offer that combir have to set up the operation to deli, vice—but be lean as well."
This can become a problem if from a single group operate inc1( but overlap in the marketplace. Ti tration and the management to col soon run away with the overall proi the business. Day says this is unlilt pen at the enlarged Turners gra' that the acquisition of Hargrave group up to its optimum size.
"We are now at a size where va absolute control, hut do not have layer of costly management. We c major contracts, providing the k: vices customers will want at an rate," he says.
Turners has just moved into a TIE Paddock Wood, in Kent's fruit ant market gardening heartland. "Init be a Turners depot, but as we or operational benefits, all of our ve run in them and that will include th ones as well says Day.
0 by Steve McQueen