Driver blitz nets 400 dole cheats
11th July 1996
Page 6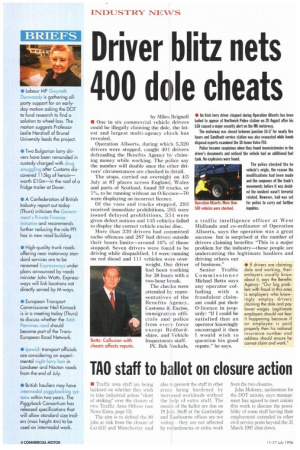 Page 6, 11th July 1996 —
Driver blitz nets 400 dole cheats
Close
Keywords :
by Miles Brignall IN One in six commercial vehicle drivers could be illegally claiming the dole, the latest and largest multi-agency check has revealed.
Operation Allsorts, during which 5,320 drivers were stopped, caught 401 drivers defrauding the Benefits Agency by claiming money while working. The police say the number will double once the other drivers' circumstances are checked in detail.
The stops, carried out overnight on 4/5 July at 87 places across England, Wales and parts of Scotland, found 59 trucks, or 1%, to be running without an O-licence-70 were displaying an incorrect licence.
Of the vans and trucks stopped, 293 received immediate prohibitions, 285 were issued delayed prohibitions, 534 were given defect notices and 145 vehicles failed to display the correct vehicle excise disc.
More than 330 drivers had committed tacho offences and 287 had driven outside their hours limits—around 10% of those stopped. Seven drivers were found to be driving while disqualified, 14 were running on red diesel and 111 vehicles were overweight. One driver had been working for 38 hours with a two-hour break.
The checks were attended by representatives of the Benefits Agency, Customs & Excise, immigration officials and police from every force except Bedfordshire, and Vehicle Inspectorate staff.
PC Bob Nockals, a traffic intelligence officer at West Midlands and co-ordinator of Operation Allsorts, says the operation was a great success but is surprised at the number of drivers claiming benefits: "This is a major problem for the industry—these people are undercutting the legitimate hauliers and driving others out of business."
Senior Traffic Commissioner Michael Betts says any operator colluding with a fraudulent claimant could put their 0-licence in jeopardy: "If I could be satisfied that an operator knowingly encouraged it then I would wish to question his good repute." he says.