BRIEFS
11th July 1996
Page 6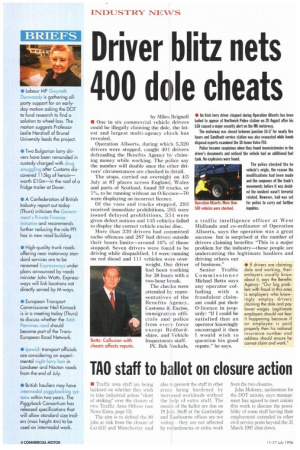 Page 6, 11th July 1996 —
BRIEFS
Close
• Labour MP Gwyneth Dunwoody is gathering allparty support for an earlyday motion asking the DOT to fund research to find a solution to wheel-loss. The motion suggests Professor Leslie Henshall of Brunel University leads the project.
• Two Bulgarian lorry drivers have been remanded in custody charged with drug smuggling after Customs discovered 1 15kg of heroin— worth 210m—in the roof of a fridge trailer at Dover.
• A Confederation of British Industry report out today (Thurs) criticises the Government's Private Finance Initiative and recommends further reducing the role PFI has in new road building.
• High-qualify trunk roads offering near motorway standard services are to be renamed Expressways under plans announced by roads minister John Watts. Expressways will link locations not directly served by M-ways.
• European Transport Commissioner Neil Kinnock is in a meeting today (Thurs) to discuss whether the A66 Pennines road should become part of the TransEuropean Road Network.
• Ipswich transport officials are considering on experimental night lorry ban in Landseer and Nacton roads from the end of July.
• British hauliers may have intermodal piggybacking systems within iwo years. The Piggyback Consortium has released specifications that will allow standard size trailers (Max height 4m) to be used on intermodal work.