Whose truck is it anyway?
11th July 1996
Page 58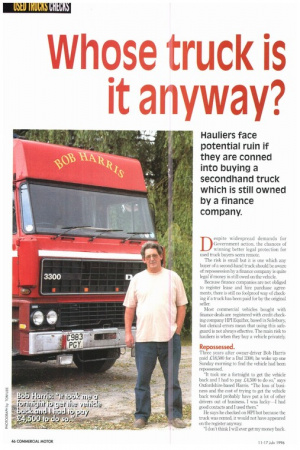 Page 59
Page 58, 11th July 1996 —
Whose truck is it anyway?
Close
Hauliers face potential ruin if they are conned into buying a secondhand truck which is still owned by a finance company.
Despite widespread demands for Government action, the chances of winning better legal protection for used truck buyers seem remote.
The risk is small but it is one which any buyer of a second-hand truck should be aware of: repossession by a finance company is quite legal if money is still owed on the vehicle_ Because finance companies are not obliged to register lease and hire purchase agreements, there is still no foolproof way of checking if a truck has been paid for by the original seller.
Most commercial vehicles bought with finance deals are registered with credit checking company HPI Equifax, based in Salisbury, but clerical errors mean that using this safeguard is not always effective. The main risk to hauliers is when they buy a vehicle privately.
Repossessed.
Three years after owner-driver Bob Harris paid .£18,500 for a Daf 3300, he woke up one Sunday morning to find the vehicle had been repossessed,
It took me a fortnight to get the vehicle back and I had to pay £4,500 to do so," says Oxfordshire-based Harris, The loss of business and the cost of trying to get the vehicle back would probably have put a lot of other drivers out of business. I was lucky—I had good contacts and I used them."
He says he checked on HPI but because the truck was rented, it would not have appeared on the register anyway "I don't think I will ever get my money back. What annoys me is that the man who sold me the vehicle is back in business," adds Harris.
If an individual unwittingly buys a vehicle which is still on HP, it cannot be repossessed. But they have no protection if they unwittingly buy a vehicle which is being rented or leased. However, dealers and auctioneers have no protection when handling vehicles which are either on HP or being leased.
Staffordshire truck dealer Malcolm Harrison estimates that he has lost more than £70,000 over the last 20 years as a result of this loophole. "We are so vulnerable." he says. "If finance companies don't want to register the vehicle, that's fine. But they should not be able to snatch it back if it is subsequently found to have been sold fraudulently"
Loophole
Bob Chadwick, of Herefordshire-based auctioneers Russell Baldwin & Bright, says the firm is currently £80,000 out of pocket because of the loophole.
"In one or two instances, we can recover all or part of the money but in an awful lot of cases it ends up being totally lost," says Chadwick.
He says proceedings to recover the money can take several years, creating substantial legal and administrative costs. "We want the law changed so that companies aren't free to target people like us to recover their money when they haven't bothered to register their interest," he says.
Glasgow-based dealer Philip Smith has suggested an alternative safeguard to the Department of Trade and Industry This would involve making vehicle registration documents show who is the owner as well as who is the keeper of the vehicle. When a finance agreement expires, the document could then be returned to Swansea to be changed.
FLA head of operations, Margaret Waldren, says: "HPI or its equivalent should be enshrined in legislation so that it is compulsory for finance companies to register and for dealers to can-y out a search."
However, pi-Nate members bills designed to tackle the problem have not won Government support. According to a DTI spokeswoman, one obstacle has been defining the type of information that needs to be included on the register and the type of asset it should apply to.
"You have to bear in mind that we are currently in a climate of deregulation," she says, The DTI claims that although checking through HPI is no guarantee to a would-be purchaser, it should provide a large measure of reassurance when no adverse information is recorded.
Tony Wonly, managing director of HPI Equifax, supports calls for legislation but believes it may eventually be unnecessary because of continuing improvements to the register. "Over the past 18 months we have invested 43m in the system and there have been tremendous improvements in the amount and qualitY of data we are getting," he says.
Interchange
Paper-based systems have been replaced by electronic data interchange links which simplify and speed up the process of registration as well as improve its accuracy. In addition, the company has begun offering special insurance cover to both private buyers and traders for vehicles valued at less than £10,000io protect them against fraud.
Worthy hopes the service will be extended to cover LGVs within the next two years. He says all the major truck manufacturers and finance companies register with 1-1Pl and efforts are continually being made to persuade the smaller finance companies to do so as well.
"We have probably got 90-95% of vehicles on finance registered with us. There will still be a risk but it is pretty remote," says Worthy.
Nick Watts, partner in Avelease cialises in commercial vehicle fin dealers themselves can tighten checks.
"They check with HPI but probal any further. If we finance a vehicle not come from a dealer, we would of ownership," says Watts. Th includes a copy of the paid invoice the paid up-finance agreement pl payment from bank statements.
Impossible
However, Kidderminster-based tr Robert Reynolds says tl circumstances where it is impossil the way people have purchased a r, "A haulier in financial diffic decide to refinance his fleet and ; scrupulous finance company couk to register it with HPI," he says. "T end up being sold and the finance come back to us to get their money "We are supposed to have a mal to know all about a vehicle and tc trace its entire history."
Demands for a change in the law ly to go away when the problem be widespread, according to Chadwil the criminal fraternity is becoi aware of the opportunities," he sa) any form of fraud, they are usual ahead of the establishment."
rJ by Guy Sheppard
Tags
People
:
Malcolm Harrison
,
Bob Chadwick
,
Robert Reynolds
,
Nick Watts
,
Worthy
,
Philip Smith
,
Bob Harris
,
Margaret Waldren
,
Guy Sheppard
,
Russell Baldwin
,
Tony Wonly