DS of the
11th July 1996
Page 54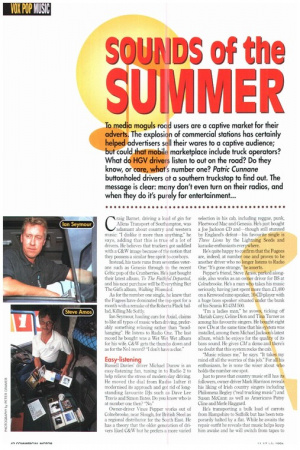 Page 55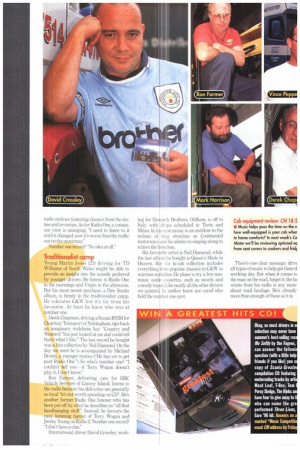 Page 54, 11th July 1996 —
DS of the
Close
To media moguls road users are a captive market for their adverb. The explosion of commercial stations has certainly helped advertisers sell their wares to a captive audience; but could that mobile marketplace include truck operators? What do HGV drivers listen to out on the road? Do they know, or care, what's number one? Patric. Cunnane buttonholed drivers at a southern truckstop to find out. The message is clear: many don't even turn on their radios, and when they do it's purely for entertainment...
Craig Barnet, driving a load of gin for Aliens Transport of Southampton, was adamant about country and western music: "I dislike it more than anything," he says, adding that this is true of a lot of drivers. He believes that truckers got saddled with a C&W image because of the notion that they possess a similar free spirit to cowboys.
Instead, his taste runs from seventies veterans such as Genesis through to the recent Celtic pop of the Cranberries. He's just bought their latest album, lb The Faithful Departed. and his next purchase will be Everything But The Girl's album, Walking Wininded.
As for the number one single, he knew that the Fugees have dominated the top spot for a month with a remake of the Roberta Flack ballad, Killing Me Softly Ian Seymour, hauling cars for Axial, claims to like all types of music when driving, preferably something relaxing rather than "headbanging". He listens to Radio One. The last record he bought was a Wet Wet Wet album for his wife. C&W gets the thumbs down and as for the Nol record? "I don't have a clue."
Easy-listening
Russell Davies driver Michael Duroi,v is an easy-listening fan, tuning in to Radio 2 to help relieve the stress of modern-day driving. He moved the dial from Radio lafter it modernised its approach and got rid of longstanding favourite DJs such as Dave Lee Travis and Simon Bates.. Do you know who is at number one then? "No."
Owner-driver Vince Pepper works out of Colnebrooke, near Slough, for British Steel as a regional distributor for the South East. He has a theory that the older generation of drivers liked C&W but he prefers a more varied selection in his alb, including reggae, punk, Fleetwood Mac and Genesis. He's just bought a Joe Jackson CE) and—though still stunned by England's defeat—his favourite single is Three Lions by the Lightning Seeds and karaoke enthusiasts everywhere.
He's quite happy to confirm that the Fugees are, indeed, at number one and proves to be another driver who no longer listens to Radio One: "It's gone strange," he asserts.
Pepper's friend, Steve Amos, parked alongside, also works as an owner driver for BS at Coinebrooke. He's a man who takes his music seriously, having just spent more than £1,400 on a Kenwood nine-speaker, 10-CD player with a huge bass speaker situated under the bunk of his Scania RI 4:3M 500.
"I'm a ladies man," he avows, ticking off Mariah Carey, Celine Dion and Tina Turner as among his favourite singers. He bought eight new CDs at the same time that his system was installed, among them Michael Jackson's latest album, which he enjoys for the quality of its bass sound. He gives CM a demo and there's no doubt that this system rocks the cab.
"Music relaxes me," he says. "It takes my mind off all the worries of this job." For all his enthusiasm, he is none the wiser about who holds the number one spot.
Just to prove that country music still has its followers, owner-driver Mark Harrison reveals his liking of Irish country singers including Philomena Begley ("real trucking music") and Susan McCann as well as Americans Patsy Cline and Merle Haggard.
He's transporting a bulk load of carrots from Hampshire to Suffolk but has been temporarily halted by a flat. While he awaits the repair outfit he reveals that music helps keep him awake and he will switch from tapes to radio stations featuring classics from the sixties and seventies. As for Radio One, a consensus view is emerging: "I used to listen to it until it changed, now it's worse than the traffic out on the motorway."
Number one record? "No idea at all."
Traditionalist camp
Young Martin Jones (23) driving for TD Williams of South Wales might be able to provide an insight into the sounds preferred by younger drivers. He listens to Radio One in the mornings and Virgin in the afternoon. But his most recent purchase, a Dire Straits album, is firmly in the traditionalist camp. Ile tolerates C&W but it's far from his favourite. At least he knew who was at number one.
Derek Chapman, driving a Scania R93M for Clearway Transport of Nottingham, tips back an imaginary widebrim hat: "Country and Western? You just looked at me and could tell that's what I like." The last record he bought was a hits collection by Neil Diamond. On the day we meet he is accompanied by Michael Brown, a younger trainee ("He has yet to get past Radio One.") So who's number one? "I couldn't tell you—if Terry Wogan doesn't play it, [don't know" Ron Farmer, delivering cars for HBC Vehicle Services of Canvey Island, listens to the radio because his deliveries are generally so local "it's not worth spending on CD". He's another former Radio One listener who has been put off by what he describes as "all that headbanging stuff". Instead, he favours the easy listening banter of Terry Wogan and Jimmy Young on Radio 2. Number one record? "I don't have a clue."
International driver David Crossley, work ing for Howarth Brothers, Oldham, is off to Italy with drops scheduled in Turin and Milan. In his case music is an antidote to the tedium of long stretches on Continental motorways and he admits to singing along to relieve the boredom.
His favourite artist is Neil Diamond, while the last album he bought is Queen's Made in Heaven. But his in-cab collection includes everything from popular classics to C&W to wartime mell dies. He plans to try a few nonmusic audio mssettes, such as novels and comedy tapes. Like nearly all the other drivers we quizzed, he neither knew nor cared who held the number one spot. There's one clear message: drivt. all types of music to help get them tt working day. But when it comes to the man on the road, forget it: the la: wants from his radio is any more about road haulage. He's already more than enough of those as it is
Tags
People
:
Mark Harrison
,
Russell Davies
,
Mariah Carey
,
Terry Wogan
,
Tina Turner
,
Neil Diamond
,
Derek Chapman
,
Michael Brown
,
Michael Jackson
,
Celine Dion
,
Michael Duroi
,
Ian Seymour
,
Simon Bates
,
Dave Lee Travis
,
Philomena Begley
,
Merle Haggard
,
Jimmy Young
,
Vince Pepper
,
David Crossley
,
Susan McCann
,
Steve Amos
,
Patsy Cline