LDV CONVOY
11th July 1996
Page 52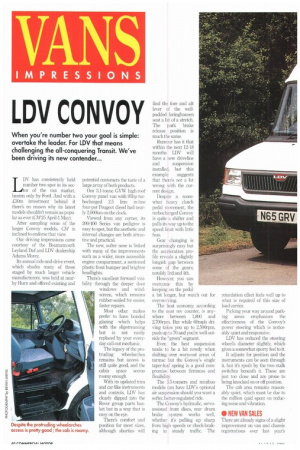 Page 53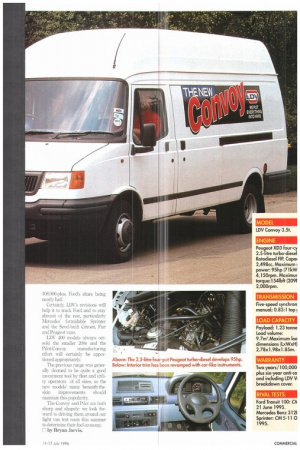 Page 52, 11th July 1996 —
LDV CONVOY
Close
When you're number two your goal is simple: overtake the leader. For LDV that means challenging the all-conquering Transit. We've been driving its new contender...
LDV has consistently held number two spot in its sector of the van market, beaten only by Ford. And with a £30m investment behind it there's no reason why its latest models shouldn't remain as popular as ever (CM 25 April-1 May).
After sampling some of the larger Convoy models, CM is inclined to endorse that view.
Our driving impressions came courtesy of the Bournemouth Leyland Daf and LDV dealership Adams Morey.
Its annual ride-and-drive event, which shades many of those staged by much larger vehicle manufacturers, was held at nearby Hunt and offered existing and potential customers the taste of a large array of both products.
Our 3.1-tonne GVW high-roof Convoy panel van with 95hp turbocharged 2.5 litre in-line four-pot Peugeot diesel had nearly 2,000km on the clock.
Viewed from any corner, its 200/400 Series van pedigree is easy to spot, but the aesthetic and internal changes are both attractive and practical.
The new, softer nose is linked with many of the improvements such as a wider, more accessible engine compartment, a sectioned plastic front bumper and brighter headlights.
There's excellent forward visibility through the deeper door windows and windscreen, which remains rubber-sealed for easier, faster repairs.
Most other makes prefer to have bonded glazing which helps with the slipstreaming but is not easily replaced by your everyday call-out mechanic.
The legacy of the pro truding wheelarches remains but access is still quite good, and the cabin space seems roomy enough.
With its updated trim and car-like instruments and controls, LDV has clearly dipped into the Rover group parts basket but in a way that is easy on the eye.
There's comfort and position for most sizes, although shorties will find the fore and aft lever of the wellpadded lsringhausen seat a bit of a stretch. The park brake release position is much the same.
Rumour has it that within the next 12-18 months LDV will have a new driveline and suspension installed, but this example suggests that there's not a lot wrong with the current design.
Despite a somewhat heavy clutch pedal movement, the turbocharged Convoy is quite a shifter and pulls its way up to the speed limit with little fuss.
Gear changing is surprisingly easy but the acceleration profile reveals a slightly longish gap between some of the gears; notably 3rd and 4th.
However, you can overcome this by keeping on the pedal a bit longer, but watch out for over-revving.
The best economy, according to the neat rev counter, is anywhere between 1,800 and 2,700rpm. But while 60mph driving takes you up to 2,500rpm, push up to 70 and you're well outside the "green" segment.
Even the best suspension tends to be a bit rowdy when shifting over worn-out areas of tarmac but the Convoy's single taper-leaf spring is a good compromise between firmness and flexibility.
The 3.5-runners and minibus models can have LDVs optional air suspension should you want a softer, better-regulated ride.
The Convoy's hydraulic, servoassisted front discs, rear drum brake system works well, whether it's pulling up sharp from high speeds or check-braking in steady traffic. The retardation effect feels well up to what is required of this size of load carrier.
Picking your way around parking areas emphasises the effectiveness of the Convoy's power steering which is noticeably quiet and responsive.
LDV has reduced the steering wheel's diameter slightly which gives a somewhat sporty feel to it.
It adjusts for position and the instruments can be seen through it, but it's spoilt by the two stalk switches beneath it. These are just too close and are prone to being knocked on or off position.
The cab area remains reasonably quiet, which must be due to the million quid spent on reducing noise and vibration.
• NEW VAN SALES
There are already signs of a slight improvement on van and chassis registrations over last year's 108,000-plus, Ford's share being nearly half.
Certainly. LDV's revisions will help it to track Ford and to stay abreast of the rest, particularly Mercedes formidable Sprinter and the Sevel-built Citroen, Fiat and Peugeot vans.
LLAI 400 models always outsold the smaller 200s and the Pilot/Convoy manufacturing effort will certainly be apportioned appropriately.
The previous range was genei-ally deemed to be quite a good investment tool by fleet and utility operators of all sizes, so the new models' many beneath-theskin impnwements should maintain this popularity.
The Convoy and Pilot are both sharp and shapely: we look forward to driving them around our light van test route this summer to determine their fuel economy. I— by Bryan Jarvis.