14•1 1 01(1111
11th July 1996
Page 36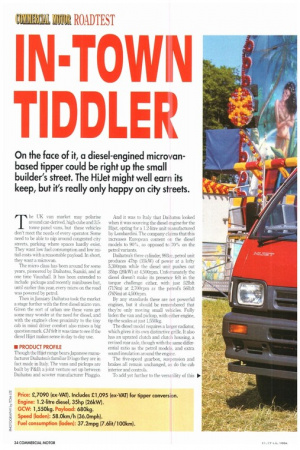 Page 38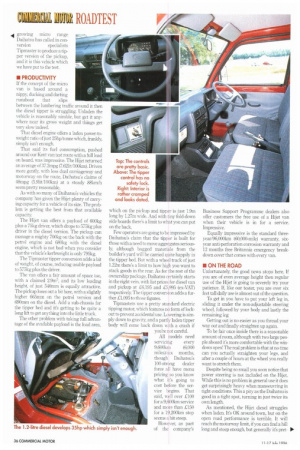 Page 40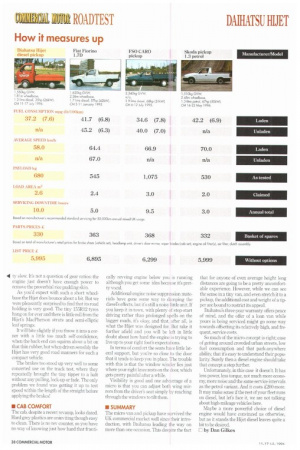 Page 36, 11th July 1996 —
14•1 1 01(1111
Close
T 1)1)1. R
On the face of it, a diesel-engined micro eanbased tipper could be right up the small builder's street. The HiJet might well earn its keep, but it's really only happy on city streets.
The LI: van market may polarise around car-derived, high-cube and 3.5tonne panel vans, but these vehicles don't meet the needs of every operator. Some need to be able to nip around congested city streets, parking where spaces hardly exist. They want low fuel consumption and low initial costs with a reasonable payload. In short, they want a microvan.
The micro class has been around for some years, pioneered by Daihatsu, Suzuki, and at one time Vauxhall. It has been extended to include pickups and recently minibuses but, until earlier this year, every micro on the road was powered by petrol.
Then in January Daihatsu took the market a stage further with the first diesel micro van. Given the sort of urban use these vans get some may wonder at the need for diesel, and with the engine's close proximity to the tiny cab in mind driver comfort also raises a big question mark. CM felt it was time to see if the diesel Hijet makes sense in day to day use.
• PRODUCT PROFILE Though the Hijet range bears Japanese manufacturer Daihatsu's familiar D logo they are in fact made in Italy. The vans and pickups are built by P&D, a joint venture set up between Daihatsu and scooter manufacturer Piaggio. And it was to Italy that Daihatsu looked when it was sourcing the diesel engine for the I lijet, opting for a 1.2-litre unit manufactured by Lombardini. The company claims that this increases European content on the diesel models to 90%, as opposed to 70% on the petrol variants.
Daihatsu's three cylinder, 993cc, petrol unit produces 47hp (35kW) of power at a lofty 5,300rpm while the diesel unit pushes out 35hp (26kW) at 4.500rpm. Unfortunately the diesel doesn't make its presence felt in the torque challenge either, with just 521bft (71Nm) at 2,700rpm vs the petrol's 561bft (76Nm) at 4,500rpm.
By any standards these are not powerful engines, but it should be remembered that they're only moving small vehicles Fully laden the van and pickup, with either engine, tip the scales at just 1,550kg.
The diesel model requires a larger radiator, which gives it its own distinctive grille. It also has an uprated clutch and clutch housing, a revised rear axle, though with the same differential ratio as the petrol models, and extra sound insulation around the engine.
The five-speed gearbox, suspension and brakes all remain unchanged, as do the cab interior and controls.
To add yet further to the versatility of this growing micro range Daihatsu has called in con version specialists Tipmaster to produce a tipper version of the pickup, and it is this vehicle which we have put to the test.
• PRO D UCTWRY If the concept of the micro van is based around a nippy, ducking and darting runabout that slips between the lumbering traffic around it then the diesel tipper is struggling. Unladen the vehicle is reasonably nimble, but get it anywhere near its gross weight and things get very slow indeed.
That diesel engine offers a laden power-toweight ratio of just 25hp/tonne which, frankly, simply isn't enough.
That said its fuel consumption, pushed around our Kent van test route with a full load on board, was impressive. The Hijet returned an average of 37.2mpg (7,6214/100km). Driven more gently, with less dual carriageway and motorway on the route, Daihatsu's claims of 48mpg (5.914/100km) at a steady 88km/h seem pretty reasonable.
As with so many of Daihatsu's vehicles the company has given the Hijet plenty of carrying capacity for a vehicle of its size. The problem is getting the best from that available capacity The Hijet van offers a payload of 600kg plus a 75kg driver, which drops to 575kg plus driver in the diesel version. The pickup can manage a mighty 700kg on the back with the petrol engine and 680kg with the diesel engine, which is not bad when you consider that the vehicle's kerbweight is only 795kg.
The Tipmaster tipper conversion adds a bit of weight, of course, reducing usable payload to 575kg plus the driver.
The van offers a fair amount of space too, with a claimed 2.9m3, and its low loading height, of just 540mm is equally attractive. The pickup loses out a bit here, with a slightly higher 665mm on the petrol version and 690min on the diesel. Add a sub-chassis for the tipper bed and it's getting to be quite a long lift to get anything into the little truck.
The other problem with taking full advantage of the available payload is the load area, which on the pickup and tipper is just 1.9m long by 1.27m wide. And with tiny fold-down side boards there's a limit to what you can put on the back.
Few operators are going to be impressed by Daihatsu's claim that the tipper is built for those with a need to move aggregates seriously, although bagged materials from the builder's yard will be carried quite happily in the tipper bed. But with a wheel track of just 1.22m there's a limit to how high you want to stack goods in the rear. As for the rest of the ownership package, Daihatsu certainly starts in the right vein, with list prices for diesel van and pickup at £6.195 and £5,995 (ex-VAT) respectively. The tipper conversion adds a further £1,095 to those figures.
Tipmasters use a pretty standard electric tipping motor, which features no form of lockout to prevent accidental use. Lowering is simply down to gravity, and a partly laden tipper body will come back down with a crash if you're not careful.
All models need servicing every 9,600km (6,000 miles)/six months, though Daihatsu's 100-strong dealer force all have menu pricing so you know what it's going to cost before the service begins, That said, well over £100 for a 9,600km service and more than £150 for a 19,200km stop seems a bit steep.
However, as part of the company's Business Support Programme dealers also offer customers the free use of a Hijet van when their vehicle is in for a service. Impressive.
Equally impressive is the standard threeyear/96,000km (60,000-mile) warranty, sixyear anti-perforation corrosion warranty and 12 months free Britannia emergency breakdown cover that comes with every van.
• ON THE ROAD Unfortunately, the good news stops here. If you are of even average height then regular use of the Hijet is going to severely try your patience. If, like our tester, you are over six feet tall daily use is almost out of the question.
To get in you have to put your left leg in, sliding it under the non-adjustable steering wheel, followed by your body and lastly the remaining leg.
Getting out is no easier as you thread your way out and finally straighten up again.
To be fair once inside there is a reasonable amount of room, although with two large people aboard it's more comfortable with the windows open! The real problem is that at no time can you actually straighten your legs, and after a couple of hours at the wheel you really want to stretch them.
Despite being so small you soon notice that power steering is not included on the Hijet. While this is no problem in general use it does get surprisingly heavy when manoeuvring in tight conditions. This a pity as the Daihatsu is good in a tight spot, turning in just twice its own length.
As mentioned, the Hijet diesel struggles when laden. Its OK around town, but on the open road performance is terrible. It will reach the motorway limit, if you can find a hill long and steep enough, but generally it's pret
ty slow. It's not a question of gear ratios: the engine just doesn't have enough power to remove the proverbial rice pudding skin.
As you'd expect with such a short wheelbase the Hijet does bounce about a bit. But we were pleasantly surprised to find that its road holding is very good. The tiny 1551212 tyres hang on for ever and there is little roll from the Hijet's MacPherson struts and semi-elliptic leaf springs.
It will bite slightly if you throw it into a corner with a little too much self-confidence, when the back end can squirm about a bit on that thin rubber, but when driven sensibly the I Iijet has very good road manners for such a compact vehicle.
The brakes too stood up very well to some concerted use on the track test, where they repeatedly brought the tiny tipper to a halt without any pulling, lock-up or fade. The only problem we found was getting it up to test speed within the length of the straight before applying the brakes!
• CAB COMFORT The cab, despite a recent revamp, looks dated. Hard grey plastics are uninviting though easy to clean. There is no rev counter, so you have no way of knowing just how hard that franti cally revving engine below you is running although you get some idea because it's pretty vocal.
Additional engine noise suppression materials have gone some way to damping the diesel's effects, but it's still a noisy little unit. If you keep it in town, with plenty of stop-start driving rather than prolonged spells on the bigger roads, it's okay, and that, after all, is what the Hijet was designed for. But take it further afield and you will be left in little doubt about how hard the engine is trying to live up to your right foot's expectations.
In terms of comfort the seats have little lateral support, but you're so close to the door that it tends to keep in place. The trouble with this is that the window winder lies just where your right knee rests on the door, which gets pretty painful after a while.
Visibility is good and one advantage of a micro is that you can adjust both wing mirrors from the driver's seat simply by reaching through the windows to tilt them.
• SUMMARY The micro van and pickup have survived the UK commercial market well since their introduction, with Daihatsu leading the way on more than one occasion, This despite the fact that for anyone of even average height long distances are going to be a pretty uncomfortable experience. However, while we can see the sense in a tiny van, and even stretch it to a pickup, the additional cost and weight of a tipper are bound to restrict its appeal.
Daihatsu's three-year warranty offers peace of mind, and the offer of a loan van while yours is being serviced might go some way towards offsetting its relatively high, and frequent, service costs So much of the micro concept is right; ease of getting around crowded urban streets, low fuel consumption and that park-anywhere ability, that it's easy to understand their popularity. Surely then a diesel engine should take that concept a step further.
Unfortunately, in this case it doesn't. It has less power. less torque, not much more economy, more noise and the same service intervals as the petrol variant. And it costs £200 more. It may make sense if the rest of your fleet runs on diesel, but let's face it, we are not talking about high-mileage vehicles here.
Maybe a more powerful choice of diesel engine would have convinced us otherwise, but as it stands the Hijet diesel leaves quite a bit to be desired.
E by Dan Gilkes