ROADWORKS
11th July 1996
Page 34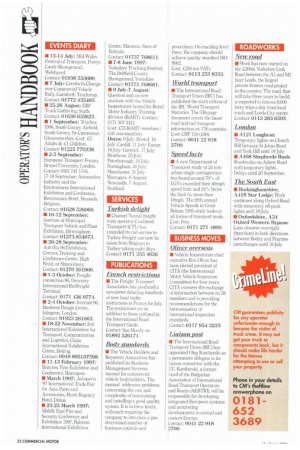 Page 35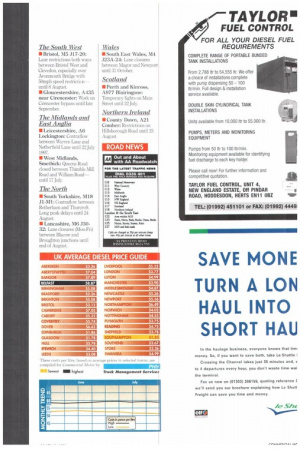 Page 34, 11th July 1996 —
ROADWORKS
Close
Keywords :
Roads In England
,
Market Towns In England
,
Transport In Buckinghamshire
,
Transport In Birmingham, England
,
Cirencester
,
M1 Motorway
,
A435 Road
,
Leeds
,
A6 Road
,
Hospitality / Recreation
New road
• Work has now started on the £200m Yorkshire Link Road between the Al and M1 near Leeds, the largest private finance road project in the country The road, that will take three years to build, is expected to remove 8,000 lorry trips a day from local roads and Leeds City mitre. Contact: 0113 283 6593.
London
• A121 Loughton: Temporary lights on Church Hill between St Johns Road and York Lill! until 19 July.
• A408 Shepherds Bush: Roadworks on Askew Road with temporary lights. Delays until 20 September.
The South East
• Buckinghamshire, A418 Star Lodge: Work continues along Oxford Road with temporary off-peak lights until 19 July • Oxfordshire, A34 Oxford Western Bypass: Lane closures overnight (9pm-6am) in both directions between Botley and Peartree interchanges until 19 July.
The South West
• Bristol, M5 J17-20: Lane restrictions both ways between Bristol West and Clevedon, especially over Avonmouth Bridge with 50mph speed restriction— until 8 August.
• Gloucestershire, A435 near Cirencester: Work on Cirencester bypass until late September.
The Midlands and East Anglia
• Leicestershire. A6 Lockington: Contra flow between Warren Lane and Nether-field Lane until 22 July 1997.
• West Midlands, Smethick: Queens Road closed between Thimble Mill Road and William Road— until 17 July.
The North
• South Yorkshire, M18 J1-M1: Contrafiow between Rotherham and Thurcroft. Long peak delays until 24 August.
• Lancashire, M6 J3032: Lane closures (Mon-Fri) between Blacow and Broughton junctions until end of August.
Wales
• South East Wales, M4 J23A-24: Lane closures between Nlagor and Newport I until 31 October.
Scotland • Perth and Kinross, A977 Blairingone: Temporary lights on Main Street until 22 July.
Northern Ireland
• County Down, A21 Comber: Restrictions on Hillsborough Road until 25 August.