PUBLICATIONS
11th July 1996
Page 34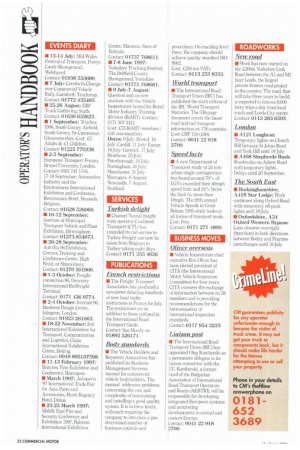 Page 34, 11th July 1996 —
PUBLICATIONS
Close
French restrictions
• The Freight Transport Association has produced a newsletter detailing hundreds of new local traffic restrictions in France for July The restrictions are in addition to those outlined in the International Road Transport Guide.
Contact: Sue Moody on 01892 526171.
Body standards
• The Vehicle Builders and Repairers Association has published its Business Management Systems manual for commercial vehicle bodybuilders. The manual addresses problems concerning the cost and complexity of maintaining and installing a good quality system. It is in three levels, with each requiring the company to introduce a predetermined number of business controls and procedures. On reaching level three, the company should achieve quality standard ISO 9002.
Cost: .12250 (ex-VAT).
Contact: 0113 253 8333.
World transport
• The International Road Transport Union (IRU) has published the sixth edition of the IRU World Transport Statistics. The 536-page document covers the latest road and rail transport information on 178 countries. Cost: Cl-IF 150 ("C80).
Contact: 0041 22 918 2700.
Speed facts
• A new Department of Transport study of 24 non. urban single carriageways has found around 70% of LGVs exceeded their 40mph speed limit and 24% broke the limit by more than lOmpli. The fifth annual Vehicle Speeds in Great Britain 1995 study looks at all forms of transport mode. Cost: Free.
Contact: 0171 271 4800.