Licence to kill
11th July 1996
Page 30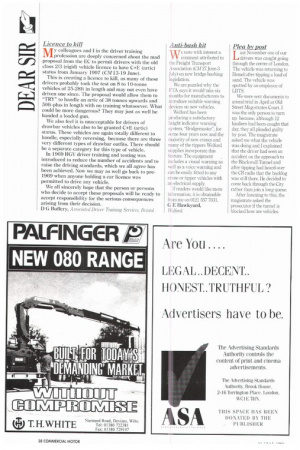 Page 31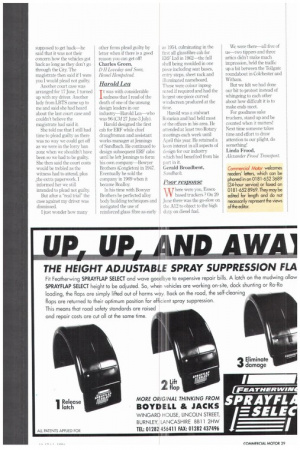 Page 30, 11th July 1996 —
Licence to kill
Close
My colleagues and 1 in the driver training profession are deeply concerned about the mad proposal from the EC to permit drivers with the old class 2/3 (rigid) vehicle licence to have C+E (artic) status from January 1997 (CM13-19 June).
This is creating a licence to kill, as many of these drivers probably took the test on 8 to 10-tonne vehicles of 25-28ft in length and may not even have driven one since. The proposal would allow them to "TRY" to handle an artic of 38 tonnes upwards and 50f1-plus in length with no training whatsoever. What could be more dangerous? They may just as well be handed a loaded gun. We also feel it is unacceptable for drivers of drawbar vehicles also to be granted C+E (artic) status. These vehicles are again totally different to handle, especially reversing, because there are three very different types of drawbar outfits. There should be a separate category for this type of vehicle. In 1969 HGV driver training and testing was introduced to reduce the number of accidents and to raise the driving standards, which we all agree has been achieved. Now we may as well go back to pre1969 when anyone holding a car licence was permitted to drive any vehicle.
We all sincerely hope that the person or persons who decide to accept these proposals will be ready to accept responsibility for the serious consequences arising from their decision. D G Buttery, Associated Driver Training Services, Bristol.
Anti-bash kit
we note with interest a comment attributed to the Freight Transport Association ((M 27 June-3 July) on new bridge bashing
We are puzzled why the FIA says it would take six months for manufacturers to introduce suitable warning devices on new vehicles.
Welford has been producing a satisfactory height indicator warning system. "Bridgemaster", for some four years now and the majority of new cranes and many of the tippers Welford supplies incorporate this feature. The equipment includes a visual warning as well as a voice warning and can be easily fitted to any crane or tipper vehicles with an electrical supply.
If readers would like more information, it is obtainable from me on 0121 557 7631. G E Hawkyard, Welford
Plea by post
Last November one of our drivers was caught going through the centre of London. The vehicle was returning to Hemel after tipping a load of sand. The vehicle was spotted by an employee of LBTS.
We were sent documents to attend trial in April at Old Street MagIstrates Court. I was the only person to turn up because, although 12 hauliers had been caught that day, they all pleaded guilty by post. The magistrate asked me what the vehicle was doing and I explained that the driver had seen an accident on the approach to the Blackwall Tunnel and after tipping had heard over the CB radio that the backlog was still there. He decided to come back through the City rather than join a long queue.
After listening to this, the magistrate asked the prosecutor if the tunnel is blocked how are vehicles supposed to get back—he said that it was not their concern how the vehicles got back as long as they don't go through the City The magistrate then said if I were you I would plead not guilty.
Another court case was arranged for 17 June. I turned up with my driver. Another lady from LBTS came up to me and said she had heard about the last court case and couldn't believe the magistrate had said it.
She told me that I still had time to plead guilty as there was no way we could get off as we were in the lorry ban zone when we shouldn't have been so we had to be guilty. She then said the court costs would be trebled as the witness had to attend, plus ,the extra paperwork. I informed her we still intended to plead not guilty.
But after a "real trial" the case against my driver was dismissed.
I just wonder how many other firms plead guilty by letter when if there is a good reason you can get off! Charles Green, D H Loveciay and Sons, Hemel Hempstead.
Harold Lea
It was with considerable sadness that I read of the death of one of the unsung design leaders in our industry—Harold Lea—who was 96 (CM 27 June-3 July).
Harold designed the first cab for ERF while chief draughtsman and assistant works manager at Jennings of Sandbach. He continued to design subsequent ERF cabs until he left Jennings to form his own company—Bowyer Brothers (Congleton) in 1947. Eventually he sold the company in 1969 when it became Boalloy.
In his time with Bowyer Brothers he perfected alloy body building techniques and instigated the use of reinforced glass fibre as early
as 1954, culminating in the first all glassfibre cab for ERF Ltd in 1962—the full shell being moulded in one piece including seat bases, entry steps, sheet rack and illuminated nameboard. These were colour inpregmted if required and had the la-gest one-piece curved windscreen produced at the time.
Harold was a stalwart Rotarian and had held most of the offices in his area. He attended at least two Rotary meetings each week until April this year. He retained a keen interest in all aspects of design for our industry which had benefited from his part in it.
Gerald Broadbent, ndbark.
Poor response
where were you, Essexbased truckers ? On 29 June there was the go-slow on die Al2 to object to the high duty on diesel fuel.
We were there—all five of us—two tippers and three artics didn't make much impression, held the traffic up a bit between the Tollgate roundabout in Colchester and Witham.
But we felt we had done our bit to protest instead of whingeing to each other about how difficult it is to make ends meet.
For goodness sake truckers, stand up and be counted when it matters! Next time someone takes time and effort to draw attention to our plight, do something!
Linda Frood, Alexander Frond Transport.