Authorisation cut with final warning
11th July 1996
Page 28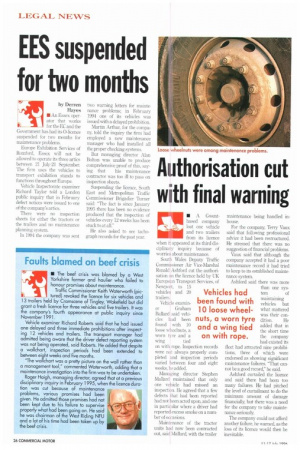 Page 28, 11th July 1996 —
Authorisation cut with final warning
Close
• A Gwentbased company lost one vehicle and two trailers from its licence when it appeared at its third disciplinary inquiry because of worries about maintenance.
South Wales Deputy Traffic Commissioner Air Vice-Marshal Ronald Ashford cut the authorisation on the licence held by UK European Transport Services, of Newport, to 15 vehicles and 20 trailers.
Vehicle examin er Graham Ballard said vehicles had been found with 10 loose vvheelnuts, worn tyre and a wing tied on with rope, Inspection records were not always properly completed and inspection periods varied between four and eight weeks, he added.
Managing director Stephen Mallard maintained that only one vehicle had missed an inspection. He agreed that a few defects that had been reported had not been acted upon, and one in particular where a driver had reported excess smoke on a number of occasions.
Maintenance of the tractor units had now been contracted out, said Mallard, with the trailer maintenance being handled inhouse.
For the company, Terry Vaux said that following professional advice it had been restructured. He stressed that there was no suggestion of financial problems.
Vaux said that although the company accepted it had a poor maintenance record it had tried to keep to its established maintenance system.
Ashford said there was more than one sys tem of maintaining vehicles but what mattered was their con dition. He added that in the short time the company had existed its fleet had attracted nine prohibitions, three of which were endorsed as showing significant maintenance failures. That cannot be a good record," he said.
Ashford curtailed the licence and said there had been too many failures. He had pitched the level of curtailment to do the minimum amount of damage financially, but there was a need for the company to take tnaintenance seriously The company could not afford another failure, he warned, as the loss of its licence would then be inevitable.