Residents tape haulier
11th July 1996
Page 26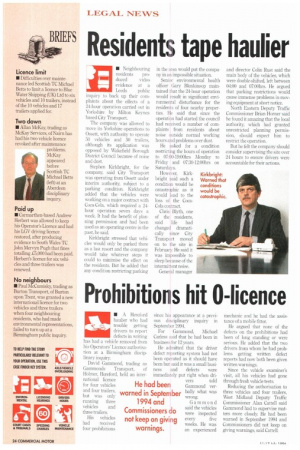 Page 26, 11th July 1996 —
Residents tape haulier
Close
• Neighbouring residents pro duced video evidence at a Leeds public inquiry to back up their complaints about the effects of a 24-hour operation carried out in Yorkshire by Milton Keynes based City Transport.
The company was allowed to move its Yorkshire operations to Ossett, with authority to operate 50 vehicles and 50 trailers, although its application was opposed by Wakefield Borough District Council bemuse of noise and dust.
Stephen Kirkbright, for the company, said City Transport was operating from Ossett under interim authority, subject to a parking condition. Kirkbright added that the vehicles were working on a major contract with Coca-Cola, which required a 24hour operation seven da■:s a week. It had the benefit of planning permission and had been used as an operating centre in the past, he said.
Kirkbright stressed that vehicles would only be parked there as a last resort and the company would take whatever steps it could to minimise the effect on the residents. But he added that any condition restricting parking in the area would put the company in an impossible situation.
Senior environmental health officer Gary Blenkinsop maintained that the 24-hour operation would result in significant environmental disturbance for the residents of four nearby properties. He said that since the operation had started the council had received a number of complaints from residents about noise outside normal working hours and problems over dust.
He asked for a condition restricting the hours of operation to 07:00-19:00hrs Monday to Friday and 07:30-1200hrs on Saturdays.
However, Kirkbright said such a condition would be catastrophic as it would lead to the loss of the CocaCola contract Chris Blyth, one of the residents, said life had changed dramatically since City Transport moved on to the site in February. He said it was impossible to sleep because of the intermittent noise.
General manager and director Colin Rust said the main body of the vehicles, which were double-shifted, left between 04:00 and 07:00hrs. He argued that parking restrictions would cause inunense problems in moving equipment at short notice.
North Eastern Deputy Traffic Commissioner Brian Horner said he found it amazing that the local authority, which had granted unrestricted planning permission, should expect him to restrict the operation.
But he felt the company should consider supervising the site over 24 hours to ensure drivers were accountable for their actions.