Prohibitions hit 0-licence
11th July 1996
Page 26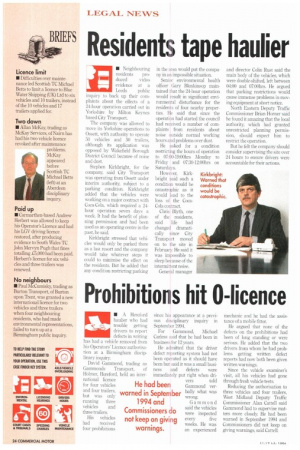 Page 26, 11th July 1996 —
Prohibitions hit 0-licence
Close
Keywords :
• A Hereford haulier who had trouble getting drivers to report defects in writing has had a vehicle removed from his Operators' Licence authorisation at a Birmingham disciplinary inquiry.
vehicles and three trailers.
His vehicles had received four prohibitions since his appearance at a previous disciplinary inquiry in September 1994, For Gammond, Michael Carless said that he had been in business for 12 years.
He admitted that the driver defect reporting system had not been operated as it should have been but said it was a small business and defects were immediately put right when dri vers told Gammond verbally what was wrong.
Gammond said the vehicles were inspected every five weeks. He was an experienced mechanic and he had the assistance of a mobile fitter.
He argued that none of the defects on the prohibitions had been of long standing or were serious. He added that the two drivers from whom he had problems getting written defect reports had now both been given written warnings.
Since the vehicle examiner's visit, all his vehicles had gone through fresh vehicle tests.
Reducing the authorisation to three vehicles and four trailers, West Midland Deputy Traffic Commissioner Alan Cattell said Gammond had to supervise matters more closely He had been warned in September 1994 and Commissioners did not keep on giving warnings, said Cattell.