BRIEFS
11th July 1996
Page 26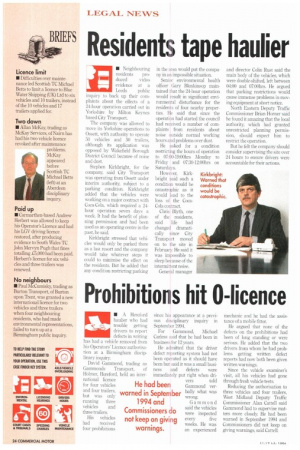 Page 26, 11th July 1996 —
BRIEFS
Close
Licence limit • I a iticulties over maintenance led Scottish TC Michael Betts to limit a licence to Blue Water Shipping (UK) Ltd to six vehicles and 10 trailers, instead of the 10 vehicles and 17 trailers applied for.
Two down • Allan McKay, trading as McKay Services, of Nairn has had his two vehicle licence revoked after maintenance problems. McKay appeared before Scottish TC Michael Betts (left) at an Aberdeen disciplinary inquiry.
Paid up
• Carmarthen-based Andrew Herbert was allowed to keep his Operator's Licence and had his WV driving licence restored, after producing evidence to South Wales TC John Mervyn Pugh that fines totalling £5,000 had been paid. Herbert's licence for six vehicles and three trailers was renewed.
No neighbours • Paul McCumislcy, trading as Burton Transport, of Burton upon Trent, was granted a new international licence for two vehicles and three trailers when four neighbouring residents, who had made environmental representations, failed to turn up at a Birmingham public inquiry.