Bishop takes on 150-tonner from Foden
11th July 1996
Page 22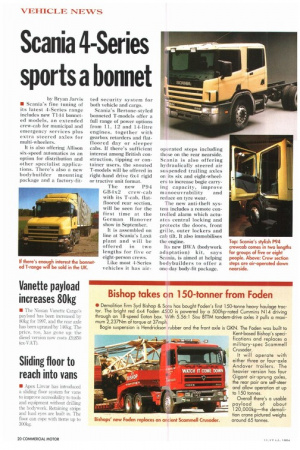 Page 22, 11th July 1996 —
Bishop takes on 150-tonner from Foden
Close
• Demolition firm Syd Bishop & Sons has bought Foden's first 150-tonne heavy haulage tractor. The bright red 6x4 Foden 4500 is powered by a 500hp-rated Cummins N14 driving through an 18-speed Eaton box. With 5.56:1 Sisu BUM tandem-drive axles it pulls a maximum 2,237Nm of torque at 37mph.
Bogie suspension is Hendrickson rubber and the front axle is GKN. The Foden was built to Kent-based Bishop's specifications and replaces a military-spec Scammell Crusader.
It will operate with either three or four-axle Andover trailers. The heavier version has four Gigant air-sprung axles, the rear pair are self-steer and allow operation at up to 150 tonnes.
Overall there's a usable payload of about 120,000kg—the demolition crane pictured weighs around 65 tonnes,