Latest Linktip ja on small side
11th July 1996
Page 19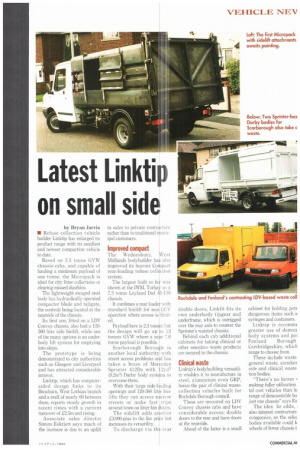 Page 19, 11th July 1996 —
Latest Linktip ja on small side
Close
by Bryan Jarvis • Refuse collection vehicle builder Linktip has enlarged its product range with its smallest and newest compaction vehicle to date.
Based on 3.5 tonne GVW chassis-cabs, and capable of hauling a minimum payload of one tonne, the Micropack is ideal for city litter collections or clearing missed dustbins.
The lightweight swaged steel body has hydraulically operated compactor blade and tailgate, the controls being located at the nearside of the chassis.
Its first one, fitted on a LDV Convoy chassis, also had a 120360 litre side binlift, while one of the many options is an underbody lift system for emptying into skips.
The prototype is being demonstrated to city authorities such as Glasgow and Liverpool and has attracted considerable interest.
Linktip, which has computeraided design links to its Broxbuni, West Lothian branch and a staff of nearly 60 between them, reports steady growth in recent times with a current turnover of £2.5m and rising.
Associate sales director Simon Eskriett says much of the increase is due to an uplift in sales to private contractors rather than to traditional rou n ipal customers.
Improved compact
The Wednesbury, West Midlands bodybuilder has also improved its heavier CoMpact rear-loading refuse collection system.
The largest built so far was shown at the 'WM, Torbak or a 7.5 tonne Leyland Daf 45-130 chassis.
It combines a rear loader %%it II standard binlift for non-1,1,V operation where access is limited.
Payload here is 2.3 tonnes but the design will go up to 13 tonnes GVW where a near 7.0 tonne payload is possible.
Scarborough Borough is another local authority with street access problems and has taken a brace of Mercedes Sprinter 412Ds with 12yd3 (9.2m3) Darby body systtinis to overcome them.
With their large side-lOading openings and 120-360 litre binlifts they can access ntirrow streets or make fast trips around town on litter bin duties.
The sidelift adds another 1:3,000-plus to the list pribe but increases its versatility.
To discharge via the double doors, Linkfit fits its own underbody tipgear and underframe, which is outrigged over the rear axle to counter the Sprinter's waisted chassis.
Behind each cab additional cabinets for taking clinical or other sensitive waste products are secured to the chassis.
Clinical waste
Linktip's bodybuilding versatility enables it to manufacture in steel, aluminium even GRP, hence the pair of clinical wastecollection vehicles built for Rochdale Borough council.
These are mounted on LDV Convoy chassis cabs and have considerable access; double doors to the rear and barn doors at the nearside.
Ahead of the latter is a small cabinet for holding pot€ dangerous items such a syringes and containers.
Linktip is recomm( greater use of demou body systems and poi Fenland Borough Cambridgeshire, which range to choose from.
These include waste general waste, standar( side and clinical waste tion bodies.
"There's no better making fuller utilisation tal cost vehicles than range of demountable bo just one chassis" says Es The idea he adds, : also interest contractors companies, as the selec bodies available could k wheels of fewer chassis t