Merc turns up power
11th July 1996
Page 18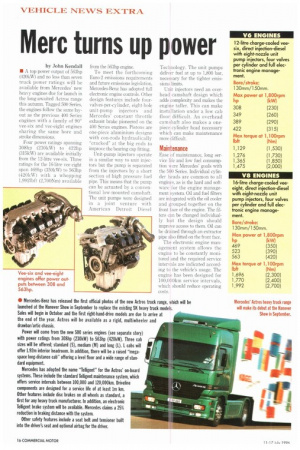 Page 18, 11th July 1996 —
Merc turns up power
Close
by John Kendall
• A top power output of 563hp (420kW) and no less than seven truck power ratings will be available from Mercedes new heavy engines due for launch in the long-awaited Actros range this autumn. Tagged 500 Series, the engines follow the same layout as the previous 400 Series engines with a family of 900 vee-six and 'ee-eight engines sharing the same bore and stroke dimensions.
Four power ratings spanning 308hp (230kW) to 422hp (315kW) are available initially from the 12-litre vee-six. Three ratings for the 16-litre vee eight span 469hp (350kW) to 563hp (420kW) with a whopping 1.9921bft (2,700Nm) available
from tile 563hp engine.
To meet the forthcoming Euro-2 emissions requirements and future emissions legislation, Mercedes-Benz has adopted full electronic engine controls. Other design features include fourvalves-per-cylinder, eight-hole unit-pump injectors and Mercedes' constant throttle exhauSt brake pioneered on the 400 Series engines. Pistons are one-piece aluminium designs with con-rods hydraulically "cracked" at the big ends to improve the bearing cap fitting. Unit-pump injectors operate in a similar was' to unit injectors but the pump is separated from the injectors by a short section of high pressure fuel pipe. This means that the pump can be actuated by a conventional low-mounted camshaft. The unit pumps were designed in a joint venture with American Detroit Diesel Technology. The unit pumps deliver fuel at up to 1,800 bar, necessary for the tighter emissions limits.
Unit injectors need an overhead camshaft design which adds complexity and makes the engine taller. This can make installation under a low cab floor difficult. An overhead camshaft also makes a onepiece cylinder head necessary which can make maintenance more difficult.
Maintenance
Ease of maintenance, long service life and low fuel consumption were Mercedes' goals with the 500 Series. Individual cylinder heads are common to all engines, as is the hard and software for the engine management system. Oil and fuel filters are integrated with the oil cooler and grouped together on the front face of the engine. The filters can be changed individually but the design should improve access to them. Oil can be drained through an extractor pipe also fitted on the front face.
The electronic engine management system allows the engine to be constantly monitored and the required service intervals are indicated according to the vehicle's usage. The engine has been designed for 100.000km service intervals, which should reduce operating costs.