Arm's length licensing?
11th July 1996
Page 15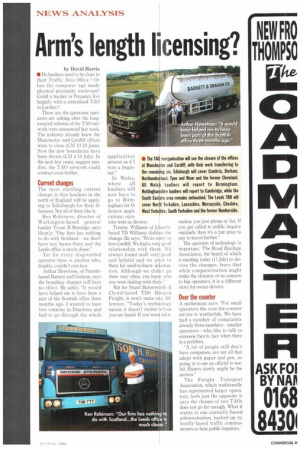 Page 15, 11th July 1996 —
Arm's length licensing?
Close
by David Harris II Do hauliers need to be close to their Traffic Area Office ? Or has the computer age made physical proximity irrelevant? Could a haulier in Penzance live happily with a centralised TAO in London ?
These are the questions operators are asking after the longawaited reforms of the TAO network were announced last week. The industry already knew the Manchester and Cardiff offices were to close (CM 13-19 June). Now the new boundaries have been drawn (CM 4-10 July). In the next few years, suggest pundits, the TA() network could contract even further.
Current changes The most startling current change is that hauliers in the north of England will be applying to Edinburgh for their 0licences. Not all of them like it.
Ken Robinson, director of Workington-based general haulier Tyson H Burridge, says bluntly: "Our firm has nothing to do with Scotland--we don't have any bases there and the Leeds office is much closer."
Yet for every disgruntled operator there is another who, frankly, couldn't care less.
Arthur Hewetson, of Penrithbased Barnett and Graham, says the boundary changes will have no effect. He adds: "It would have helped me to have been a part of the Scottish office three months ago. I wanted to base two vehicles in Dumfries and had to :ro throtwil the whole application process as if I was a beginner."
In Wales,
where all hauliers will now have to go to Birmingham for 0licence applications, opinions were as divc1
Tommy Williams of Llanellibased TD Williams dislikes the change. He says: "We're sorry to lose Cardiff. We had a ver good relationship with thcn. We always found staff very good and helpful and we w nt to them for need-to-know information. Although we didtct go there very often, you kneiv who you were dealing with there."
But for Stuart Buttenwirth of Clywd-based TDS Mbrgan Freight, it won't make ay difference. "Today's technology means it doesn't matter k'here y.n:ire based. If you want infor
illation you just phone or fax. If you get called to public inquiry regularly then it's a fair price to pay to travel further."
The question of technology is important. The Road Haulage Association, the board of which is meeting today (11 July) to discuss the changes, fears that while computerisation might make the closures of no concern to big operators, it is a different story for owner-drivers.
Over the counter
A spokesman says: "For small operators the over-the-counter service is worthwhile. We have had a number of complaints already from members—smaller operators—who like to talk to someone face to face when there is a problem.
"A lot of people still don't have computers, are not all that adept with paper and pen, so going in to see an official is useful. Hasten slowly might be the answer."
The Freight Transport Association, which traditionally has represented larger operators, feels just the opposite: it says the closure of two TAOs does not go far enough. What it wants is one centrally-based administration, backed up by locally-based traffic commissioners to hear public inquiries