Smoke to clear in Westminster
11th July 1996
Page 14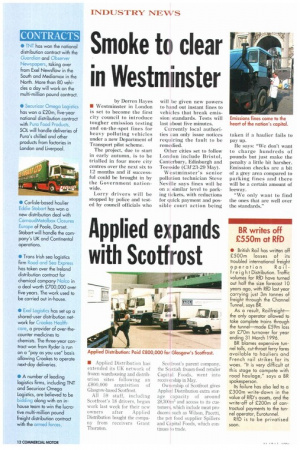 Page 14, 11th July 1996 —
Smoke to clear in Westminster
Close
by Derren Hayes • Westminster in London is set to become the first city council to introduce tougher emission testing and on-the-spot fines for heavy polluting vehicles under a new Department of Transport pilot scheme.
The project, due to start in early autumn, is to be trialled in four more city centres over the next six to 12 months and if successful could be brought in by the Government nationwide.
Lorry drivers will be stopped by police and tested by council officials who will be given new powers to hand out instant fines to vehicles that break emission standards. Tests will last about five minutes.
Currently local authorities can only issue notices requiring the fault to be remedied.
Other cities set to follow London include Bristol, Canterbury, Edinburgh and Teesside (CM 23-29 May).
Westminster's senior pollution technician Steve Neville says fines will be on a similar level to parking tickets, with reductions for quick payment and possible court action being taken if a haulier fails to pay up.
He says: "We don't want to charge hundreds of pounds but just make the penalty a little bit harsher. Emission checks are a bit of a grey area compared to parking fines and there will be a certain amount of leeway.
"We only want to find the ones that are well over the standards."