CONTRACTS
11th July 1996
Page 14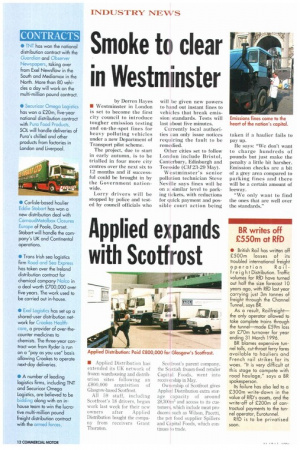 Page 14, 11th July 1996 —
CONTRACTS
Close
• TNT has won the national distribution contract with the Guardian and Observer Newspapers, taking over from Exel News(low in the South and Mediamax in the North. More than 80 vehicles a day will work on the multi-million pound contract.
• Securicor Omega Logistics has won a £20m, five-year national distribution contract with Pura Food Products. SOL will handle deliveries of Pura's chilled and other products from factories in London and Liverpool.
• Carlisle-based haulier Eddie Stobart has won a new distribution deal with CarnaudMetalbox Closures Europe of Poole, Dorset. Stobart will handle the company's UK and Continental operations.
• Trans Irish sea logistics firm Road and Sea Expi has taken over the Ireland distribution contract for chemical company Nalco in a deal worth £700,000 over five years. The work used to be carried out in-house.
• Exel Logistics has set up a shared-user distribution network for Crookes Healthcare, a provider of over-thecounter medicines to chemists. The three-year contract won from Ryder is run on a "pay as you use" basis allowing Crookes to operate next-day deliveries.
• A number of leading logistics firms, including TNT and Securicor Omega Logistics, are believed to be bidding along with an inhouse team to win the lucrative multi-million pound freight distribution contract with the armed forces.