Weymann Bodybuilding Shown
11th July 1947
Page 53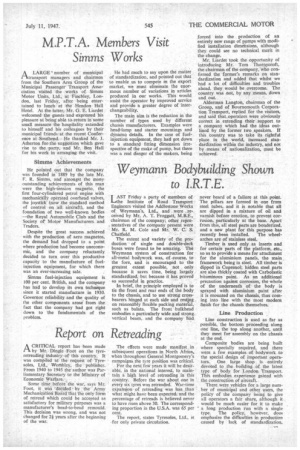 Page 53, 11th July 1947 —
Weymann Bodybuilding Shown
Close
to I.R.T.E.
AST Friday a party of members of Lithe Institute of Road Transport Engineers visited the Addlestone Works of Weymann's, Ltd., and were received by Mr. A. T. Froggatt, M.B.E., chairman of the company; other repre, sentatives of the company present were Mr. R. M. Cole and Mr. W. C. S. Chatfield.
The extent and variety of the production of single and double-deck buses were found to be amazing. The Weymann system of construction for all-metal bodywork was of ,c.ourse, to the fore, and is encouraged to the greatest extent possible, not only because it saves time, being largely standardized, but because it has proved so successful in practice.
In brief, the principle employed is to tie the front and rear ends of the body to the chassis, and to use strong crossbearers hinged at each side and resting on reasonably flexible packing material, such as hatata. The front bulkhead embodies a particularly wide and strong, vertical beam, and the company had: never heard of a failure at this point. The pillars are formed in one from steel tubes, and it is notable that all are dipped in a mixture of oil and varnish before erection, to prevent corrosicm, particularly at the base. Apart from this, all steel parts are bonderized, and a new plant for this purpose has
recently been installed. The wheelarches are of stainless steel.
Timber is used only as inserts and for certain parts of the platform, etc.. so as to provide a means for attachment for the aluminium panels, the main framework being in steel. All timber is dipped in Cupreziol; hidden steel parts are also thickly coated with Carbolastic bituminous paint. As an additional precaution against corrosion, the whole of the underneath of the body is sprayed with aluminium paint after it is mounted on the chassis, thus coming into tine with the most modem finish for the chassis themselves.
Line Production
Line construction is used as far as possible, the bottom proceeding along One line, the top along another, until they meet for assembly on the chassis at the end.
Composite bodies are being built where specially required, and there were a few examples of bodywork to the special design of important operators. One large shop is entirely devoted to the building of the latest type of body. for London Transport. This embodies experience gained with the cOnstruction of aircraft_
There were vehicles for a large number of municipal and other users, the policy of the company being to give all operators a fair share, although it would be much easier for it to make a long production run with a single type. The policy, however, does emphasize the difficulties in production caused by lack of standardization.