Report on Retreading
11th July 1947
Page 53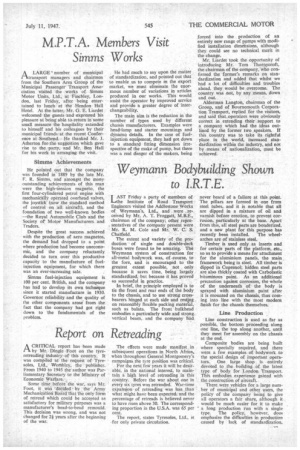 Page 53, 11th July 1947 —
Report on Retreading
Close
ACRITICAL report has been made by Mr. Dingle FOOI on the tyreretreading-industry: of this country. It was compiled at the request of Tyresoles, Ltd., Wettabley, the publisher. From 1940 to 1945 the author was Parliamentary Secretary to the Ministry of Economic Warfare.
Some time before the war, says Mr. Foot, it was 'decidedby the Army Mechanization Board that the only farm of retread which could be accepted as satisfactory for military purposes was a manufacturer's bead-to-bead remould. This decision was wrong, and was not changed for 2 years after the beginning of the war. The effects were made manifest in subsequent operations in North Africa, when throughout General Montgomery's campaignsthe tyre position was critical.
For the next few years it will be desirable, in the national interest, to maintain a high level of. retreading in this country. Before the war about one in every six tyres was retreaded. War-time expahsion of retreading was less than what might have been expected, and the percentage of retreads is believed never to have risen above 30. The corresponding proportion in the U.S.A. was 65 per cent.
The report, states Tyresoles, Ltd., is -for only private circulation.