M.P.T.A. Members Visit
11th July 1947
Page 53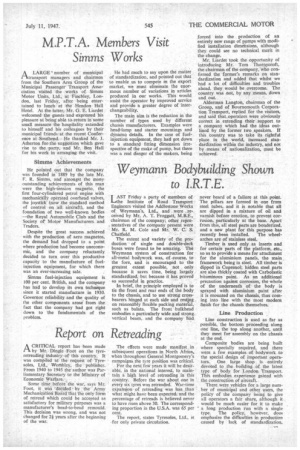 Page 53, 11th July 1947 —
M.P.T.A. Members Visit
Close
Simms Works
ALARGE " number of municipal transport managers and chairmen from the Southern Area Group of the Municipal Passenger Transport Association visited the works of Simms Motor Units, Ltd., at 'Finchley, London, last Friday, after being entertained to lunch at the Hendon Halt Hotel. At the. latter, Mr. G. E. Liardet welcomed the guests and expressed his pleasure at being able to return in some small measure the hospitality extended to himself and his colleagues by their municipal friends-at the recent Conference at Southeod. He thanked Mr. J. Atherton foethe suggestion which gave rise to the party, and Mr. Ben Halt for his work, in arranging the visit.
He had much to say upon the matter of standardization, and pointed out that to enable us to compete in the export market, we must eliminate the enormous number of variations in articles produced in our works. This would assist the operator by improved service and provide a greater degree of interchangeability.
The main aim is the reduction in the number of types used by different chassis manufacturers. Examples were head-lamp and starter mountings and dynamo details. In the case of fuelinjection equipment, they had got down to a standard fitting dimension irrespective of the make of pump, but there was a real danger of the makers, being forced into the production of an entirely new range of pumps with modified installation dimensions, although they. could see no technical. merit in the change. Mr. Liardet took the opportunity of introducing Mr. Torn Thornycroft, the chairman of the company:vit.° confirmed the former's remarks on standardization and added that whilst we had a lot of difficulties and troubles ahead, they would be overcome. The country was not, by any means, down and out.
Alderman Langton, chairman of the Group, and of Bournemouth Corporation Transport, replied for the visitors, and said that operators were obviously correct in extending their support to a company which had the ideas outlined by the former two speakers. If this 'country was to take its rightful place in the world, increased standardization within the industry, and not by means of nationalization, must be achieved.