Furniture Haulage by Tractor and Trailer
11th July 1947
Page 50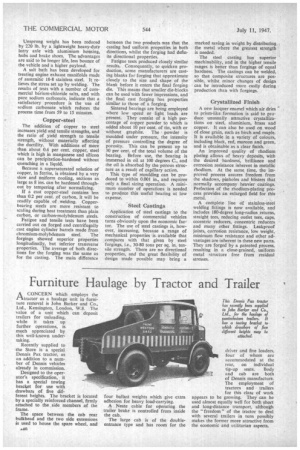 Page 50, 11th July 1947 —
Furniture Haulage by Tractor and Trailer
Close
Keywords :
Agricultural Machinery
,
Articulated Vehicles
,
Engineering Vehicles
,
Technology
,
Tractor
,
Drawbar
,
Trailer
,
Towing
,
Mechanical Engineering
,
Tourism
,
Ballast Tractor
,
Semi-trailer
A CONCERN which employs the .titractor as a haulage unit in furniture removal is John Barker and Co., Ltd., Kensington, London, W.8. The value of a unit which can deposit trailers for unloading, while it takes up further operations, is much appreciated by this well-known undertaking.
Recently supplied to the Store is a special Dennis Pax tractor, as an addition to a number of Dennis vehicles already in commission.
Designed to the operator's specification, it has a special towing bracket for use with drawbars of five different heights. The bracket is located by a specially reinforced channel, firmly attached to the side members of the frame.
The space between the cab rear bulkhead and the two side extensions is used to house the spare wheel, and A40 four ballast weights which give extra adhesion for heavy load-carrying.
A Neate cable for operating the trailer brake is controlled from inside the cab.
The large cab is of the doubleentrance type and has room for the driver and five loaders, four of whom are accommodated at the rear, on individual tip-up seats. Body and cab are both of Dennis manufacture. The employment of tractors and trailers for this class of work appears to be growing. They can be used almost equally well for both short and long-distance transport, although the "freedom" of the tractor to deal with several trailers in turn possibly makes the former more attractive from the economic and utilitarian aspects,