WHITBREAD FLEE
11th July 1947
Page 38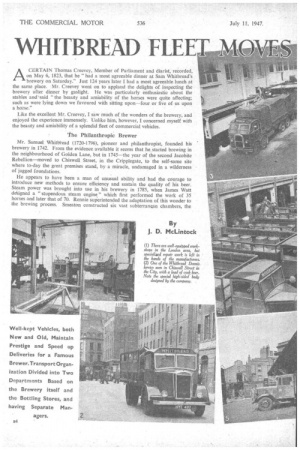 Page 39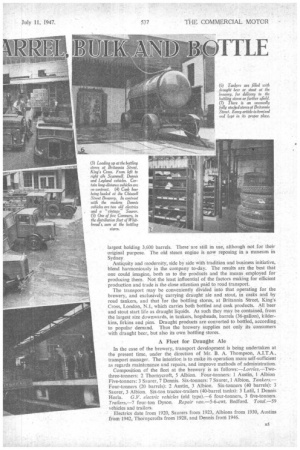 Page 40
Page 43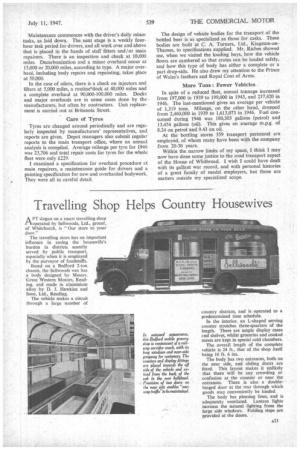 Page 38, 11th July 1947 —
WHITBREAD FLEE
Close
By J. D. McLintock ACERTAIN Thomas Creevey, Member of Parliament and diarist, recorded, on May 6, 1823, that he "had a most agreeable dinner at Sam Whitbread's brewery on Saturday." Just 124 years later I had a most agreeable lunch at the same place. Mr. Creevey went on to applaud the delights of inspecting the brewery after dinner by gaslight. He was particularly enthusiastic about the stables and said "the beauty and amiability of the horses were quite affecting; such as were lying down we favoured with sitting upon—four or five of us upon a horse."
Like the excellent Mr. Creevey, I saw much of the wonders of the brewery, and enjoyed the experience immensely. Unlike him, however, I concerned myself with the beauty and amiability of a splendid fleet of commercial vehicles.
the Philanthropic Brewer
Mr. Samuel Whitbread (1720-1796), pioneer and philanthropist, founded his brewery in 1742. From the evidence available it seems that he started brewing in the neighbourhood of Golden Lane, but in 1745 the year of the second Jacobite Rebellion—moved to Chiswell Street, in the Cripplegate, to the self-same site where to-day the great premises stand, by a miracle, undamaged in a wilderness of jagged foundations.
He appears to have been a man of unusual ability and had the courage to introduce new methods to ensure efficiency and sustain the quality of his beer. Steam power was brought into use in his brewery in 1785, when James Watt deigned a "stupendous steam engine" which first performed the work of 35 horses and later that of 70. Rennie superintended the adaptation of this wonder to the brewing process. Smeaton constructed six vast subterranean chambers, the
largest holding 3,600 barrels. These are still in use, although not for their original purpose. The old steam engine is now reposing in a museum in Sydney.
Antiquity and modernity, side by side with tradition and business initiative, blend harmoniously in the company to-day. The results are the best that one could imagine, both as to the products and the means employed for producing them. Not the least influential of the factors making for efficient production and trade is the close attention paid to road transport.
The transport may be conveniently divided into that operating for the brewery, and exclusively carrying draught ale and stout, in casks and by road tankers, and that for the bottling stores, at Britannia Street, King's Cross, London, N.1, which carries both bottled and cask products. All beer and stout start life as draught liquids. As such they may be contained, from the largest size downwards, in tankers, hogsheads, barrels (36-gallon), kilderkins, firkins and pins. Draught products are converted to bottled, according to popular demand. Thus the brewery supplies not only its consumers with draught beer, but also its own bottling stores.
A Fleet for Draught Ale In the case of the brewery, transport development is being undertaken at the present time, under the direction of Mr. B. A. Thompson, A.I.T.A., transport manager. The intention is to make its operation more self-sufficient as regards maintenance and repairs, and improve methods of administration.
Composition Of the fleet at the brewery is as follows:—Lorries.---Twothree-tonners: 2 Thornycroft, 5 Albion. Four-tonners: 1 Austin, 1 Albion • Five-tonners: 3 Saurer, 7 Dennis. Six-tonners: 7 Saurer, 1 Albion. Tankers.— Four-tonners (20 barrels): 2 Austin, 3 Albion. Six-tonners (40 barrels): 3 Saurer, 3 Albion. Six-ton tractor-trailers (40-barrel tanks): 3 Latil, 1 Dennis Horla. G.V. electric vehicles (old type).-6 four-tonners, 3 five-tanners. Trailers.-7 four-ton Dyson. Repair van.-5-6-cwt. Bedford. Total.-59 vehicles and trailers.
• Electrics date from 1920, Saurers from 1923, Albions from 1930, Austins from 1942, Thornycrofts from 1928, and Dennis from 1946. Average yearly mileage is 387,800. Daily mileage varies from 45-160, and petrol consumption is 45,000 gallons per annum. Annual tonnage is 128,500, giving a figure of 2,177 per vehicle per annum. This does not include tonnage carried on malt and hops collection.
Work consists of daily shuttle services by tanker to bottling depots at Chiswick, Kingston, Lewisham, Manor Park, Tottenham and Weston Rise, as well as the main bottling stores at Gray's Inn Road. Draught beer is delivered to Whitbread houses and to clubs and hotels in the London and surburban areas.
Maintenance on Time Basis Maintenance at the brewery is carried out on a time basis, because of the comparatively low mileage.
Schedule A is a driver's daily inspection and record; Schedule B a monthly check by fitters; Schedule C a sixmonthly overhaul; Schedule D a yearly top over haul, oil-change, etc.; and Schedule E a major dock every two years. and body renovation. Schedules are adjusted, within reason, according to peak 'periods of business.
Tyres are changed around at each schedule (twice a year). Advice and inspection are received from the tyre manufacturers. Among documents shown to me was a tyre-record form, which provides for a full report on discarded covers and details of the replacements fitted.
A ready record of vehicle states is given by a tally board. Every vehicle has a tally on which are marked its unladen weight, chassis and engine numbers, load capacity, make and fleet number.
Weekly running reports and four-weekly cost returns are entered in a journal and collated in a year book, in detail. Internal and external repair costs are regularly entered in another book, and are analysed yearly. All accidents are separately recorded. Operating costs are worked out to cost per barrel.
All major engine repairs are at present sent out to agents or manufacturers, but units are usually replaced at Chiswell Street.
Standardized Bodywork The bodyshop is responsible for the design of a standardized vehicle body for the brewery, manufactured by Marshall Motor Bodies, Ltd., Cambridge. Body sides are built level with the top of the cab and the design allows for side and rear loading, a 3-ft. 6-in, gate being included at the centre of the off side. Each side has a Plymax or a mahogany name panel. Floors are built with oak boards 9 ins. by 11 ins., with 1/-in, by i-in. half-round iron strips. Sides are supported by three main irons of 2-in. by 4-in. section and standard irons of 14 ins by 4 in. Cabs are built to seat three people, Finish is in the familiar Whitbread brown, with black mouldings and gold lining, and lettering in gold. The Whitbread hind's-head trade mark is fitted on all radiators.
The transport staff at Chiswell Street numbers 200, of whom 26 have been with the company for 25 years or more.
Leaving The Barbican, let us move a few miles across East-Central London to Britannia Street, near King's Cross. The transport based at the bottling stores has a s6 big job to do, as it must supply bottled and a certain amount of cask beer to depots all over the country. This headquarters is also responsible for those units of the big fleet held at depots for local distribution. It is thus the control centre of a wide operational system.
Transport for Bottling Stores The head office of the bottling stores at Britannia Street controls 32 depots, spread over the country. Beer brewed at the brewery is collected or delivered in bulk tank, road-rail tank or casks to the bottling stores. The main depots redistribute the beer to the non-bottling depots, which in turn deliver it to the customer.
The main bottling depot, in Gray's Inn Road, is one of the most modern of its type in the world, and can deal with something like 8,000 bottles an hour, total output being 1,000,000 bottles a week.
Long-distance transport is necessary where provincial depots have, no bottling facilities. Thus, Britannia Street may be said to arrange all transport except that within London itself. I say "arrange," because its own transport is backed up by a considerable amount of longdistance work by contractors.
Vehicles held at depots are up to 7 tons capacity. Those on long-distance work are 12-15-tonners.
These are the details of the complete fleet of 180 vehicles, of which eight are oilers• on long-distance work:— Fleet Totals 180 Vehicles Dennis: Capacity 30 cwt. to 12 tons, built 1926 to 1947, total 128. Bedford: Capacity 30 cwt. to 5 tons, built 1938 to 1947, total 12. Leyland: Capacity 2 tons to 12 tons, built 1932 to 1939, total 10. Dodge: Capacity 24 tons to 4 tons, built 1939 to 1940, total 10. Albion: Capacity 24 tons to 5 tons, built 1936 to 1940, total 6. A.E.C.: Capacity 12 tons to 15 tons, built 1937 to 1939, total 5. Commer: Capacity 8 cwt. to 2 tons, built 1935 to 1946, total 5 Chevrolet: Capacity 24 tons, built 1939, total 2. Austin: Capacity 8 cwt., built 1947, one. Morris: Capacity 5 cwt., built 1935, one.
It will be appreciated that operation from Britannia Street is not on a parallel with that from Chiswell Street. No central workshop exists, but there are four small workshops within the London area. The Britannia Street workshop is used for servicing units, which are then placed in the stores, from which all depots are served with spares, accessories and service units. A small van is employed for distribution.
Repairs and maintenance at the bottling stores are run on a combined time-and-mileage basis, as opposed to the exclusive time factor in use at the brewery. The transport manager at Britannia Street is Mr. A. H. Riches, M .I.R.T.E Maintenance commences with the driver's daily minor tasks, as laid down. The next stage is a weekly fourhour task period for drivers, and all work over and above that is placed in the hands of staff fitters and/or main repairers. There is an inspection and check at 10,000 miles. Decarbonization and a minor overhaul occur at 15,000 or 20,000 miles, according to type. A major overhaul, including body repairs and repainting, takes place at 50,000.
In the case of oilers, there is a check on injectors and filters at 5,000 miles, a routine'dock at 40,000 miles and a complete overhaul at 90,000-100,000 miles. Docks and major overhauls are in some cases done by the manufacturers, but often by contractors. Unit replacement is carried out at Britannia Street.
Care of Tyres Tyres are changed around periodically and are regularly inspected by manufacturers' representatives, and reports are given. Depot managers also submit regular reports to the main transport office, where an annual analysis is compiled. Average mileage per tyre for 1946 was 23,706 and total repair costs for tyres for the whole fleet were only £229.
I examined a specification for overhaul procedure at main repairers, a maintenance guide for drivers and a painting specification for new-and overhauled bodywork. They were all in careful detail. The design of vehicle bodies for the transport of the bottled beer is as specialized as those for casks. These bodies are built at C. A. Turners, Ltd., Kingston-onThames, to specifications supplied. Mr. Riches showed me, when we visited the loading bays, how the vehicle floors are cambered so that crates can be loaded safely, and how this type of body has either a complete or a part drop-side. He also drew my attention to the Prince of Wales's feathers and Royal Coat of Arms.
More Tons : Fewer Vehicles.
In spite of a reduced fleet, annual tonnage increased from 197,000 in 1939 to 199,000 in 1945, and 237,420 in 1946. The last-mentioned gives an average per vehicle of 1,319 tons. Mileage, on the other hand, dropped from 2,460,000 in 1939 to 1,613,073 in 1946. Fuel consumed during 1946 was 180,303 gallons (petrol) and 13,454 gallons (oil). This gives an average m.p.g. of 8,24 on petrol and 9.43 on oil.
At the bottling stores 359 transport personnel are employed, of whom many have been with the company from 20-30 years.
Within the narrow limits of my space, I think I may now have done some justice to the road transport aspect of the House of Whitbread. I wish I could have dealt with its gallant war record, and with personal histories of a great family of model employers, but those are matters outside my specialized scope.