"The Law is
11th July 1947
Page 36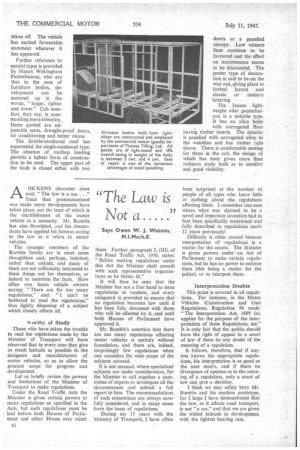 Page 36, 11th July 1947 —
"The Law is
Close
Not a )1 Says Owen W. J. Watson, M.I.Mech.E. ADICKENS character once said: "The law is a ass . . ." Since that pronouncement was made many developments have taken place, not the least of which is the establishment of the motor vehicle as a necessity. Mr. Bumble has also flourished, and his descendants have applied his famous saying to the law as it refers to motor vehicles.
The younger members of the Bumble family are in most cases thoughtless and, perhaps, indolent, rather than unkind, and many of them are not sufficiently interested to think things out for themselves, or indeed to ascertain the facts. How often one hears vehicle owners saying: "There are far too many regulations," and: "I can't be bothered to read the regulations," thus lightly disposing of a subject which closely affects all.
orthy of Study
Those who have taken the trouble to read the regulations made by the Minister of Transport will have observed that in every case they give as much latitude as possible to the designers and manufacturers of motor vehicles, so as to allow the greatest scope for progress and development.
Let us briefly review the powers and limitations of the Minister of Transport to make regulations.
Under the Road Traffic Acts the Minister is given certain powers to make regulations as specified in the Acts, but such regulations must be laid before both Houses of Parliament and either House may reject them. Further, paragraph 2, (III), of the Road Traffic Act, 1930, states: "Before making regulations under this Act the Minister shall consult with such representative organizations as he thinks fit."
It will thus be seen that the Minister has not a free hand to issue regulations at random, and every safeguard is provided to ensure that no regulation becomes law until it has been fully discussed with those who will be affected by it, and until both Houses of Parliament have approved it.
Mr. Bumble's assertion that there are too many regulations affecting motor vehicles is entirely without foundation, and there are, indeed, surprisingly few regulations when one considers the wide scope of the subjects covered.
It is not unusual, where specialized subjects are under consideration, for the Minister to call together a committee of experts to investigate all the circumstances and submit a full report to him. The recommendations of such committees are always carefully considered, and in many cases form the basis of regulations.
During my 15 years with the Ministry of Transport, I have often been surprised at the number of people of all types who know little or nothing about the regulations affecting them. I remember one case where what was claimed to be a novel and important invention had in fact been specifically mentioned and fully described in regulations made 12 years previously!
Difficulty is often caused because interpretation of regulations is a matter for the courts. The Minister is given powers under an Act of Parliament to make certain regulations, but he has no power to enforce them (this being a matter for the police), or to interpret them.
Interpretation Doubts
This point is covered in all regulations. For instance, in the Motor Vehicles (Construction and Use) Regulations, Regulation 96 reads: "The Interpretation Act, 1889 (a), applies for the purpose of the interpretation of these Regulations, etc." It is only fair that the public should have the right of appeal to a court of law if there be any doubt of the meaning of a regulation.
It follows, therefore, that if anyone knows the appropriate regulations, his interpretation is as good as the next man's, and if there be divergence of opinion as to the meaning of a regulation, only a court of law can give a decision.
I think we may safely bury Mr. Bumble and his modern prototype, for I hope I have demonstrated that the law, as it affects road transport, is not "a ass," and that we are given the widest latitude in development, with the lightest bearing rein.