Personal Pars
11th July 1947
Page 30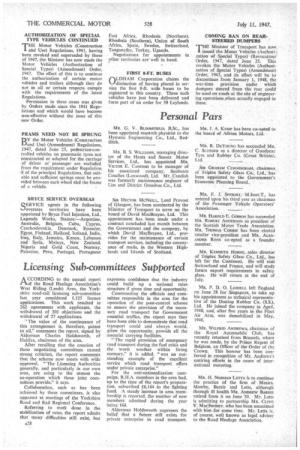 Page 30, 11th July 1947 —
Personal Pars
Close
Mn. G. V. BLOOMFIELD, BSc., has been appointed research physicist to the Hymatic Engineering Co., Ltd., Redditch.
MR. B. S. WILLIAMS, managing director of the Hants and Sussex Motor Services, Ltd., has appointed MR. VICTOR E. CANDISH to be manager of his associated company, Sunbeam Coaches (Loxwood), Ltd. Mr..Candish was formerly maintenance engineer of Liss and District Omnibus Co., Ltd.
SIR HECTOR MCNEILL, Lord Provost of Glasgow, has been nominated by the Minister of Transport to serve on the board of David MacBrayne, Ltd. This appointment has been made under a contract concluded last month between the Government. and the company, by which David MacBrayne, Ltd., provides for the maintenance of certain transport services. including the conveyance of mails, in the Western Highlands and Islands of Scotland. Mn. J. A. KEMP has been co-opted to the board of Albion Motors, Ltd.
MR. R. DEYourso has succeeded Ma. C. Srussna as a director of Goodyear Tyre and Rubber Co. (Great Britain), Ltd.
SIR GRAHAM CUIVNINCHAM, chairman a Triplex Safety Glass Co., Ltd., has been appointed to the Government's Economic Planning Board., MR. F. J: SPEIGHT, M.INST.T., has entered Upon his third year as chairman of the Passenger. Vehicle Operators' Association.
MR. HAROLD E. GMRON has succeeded MR. ROBERT ANDERSON as president of the Scottish Motor Trade Association. MR. Thomas CORRIE has been elected retailer vice-president and MR. ALEXANDER Ross co-opted as a founder member.
MR. KENNETH HOME, sales director of Triplex Safety Glass Co. Ltd., has left for the Continent. He will visit Switzerland and France, and will study future export requirements in safety glass. He will return at the end of July.
MR. P. D. 0. LIDDELL left England on June 28 for Singapore, to take up his appointment as technical representative of the Dunlop Rubber Co. (S.S.), Ltd. He joined the company in April, 1940, and, after five years in the Fleet A19i4r6.Arm, was demobilized in May, Mn. WILFRID ANDREWS, chairman of the Royal Automobile Club, has recently returned from Brussels, where he was made, by the Prince Regent of Belgium, an Officer of the Order of the Crown. This honour has been conferred in recognition of Mr. Andrews's untiring efforts in the cause of international motoring.
MR. H. NORMAN LETTS is to continue the practice of the firm of Messrs. Mawby, Barrie and Letts, although through ill health MR. ANDREW BARRIE retired from it on June 30. Mr. Letts is admitting to partnership MR. Cunt; V. MACSWENEY, who has been associated with him for some time. Mr. Letts is, of course, well known as legal adviser to the Road Haulage Association.
Tags
People
:
ROBERT ANDERSON
,
H. NORMAN LETTS
,
HAROLD E. GMRON
,
Cunt
,
VICTOR E. CANDISH
,
B. S. WILLIAMS
,
Regent
,
HECTOR MCNEILL
,
G. V. BLOOMFIELD
,
WILFRID ANDREWS
,
V. MACSWENEY
,
ANDREW BARRIE
,
GRAHAM CUIVNINCHAM