Tyre Shortage May Cause Transport Breakdown
11th July 1947
Page 29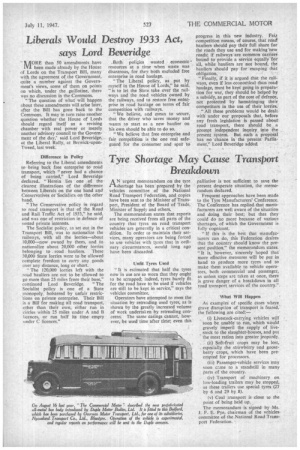 Page 29, 11th July 1947 —
Tyre Shortage May Cause Transport Breakdown
Close
A'urgent memorandum on the tyre shortage has been prepared by the vehicles committee of the National Road Transport Federation, and copies have been sent to the Minister of Transport, President of the Board of Trade, Minister of Supply and others.
The memorandum states that reports are being received from all parts of the country that tyres on road transport vehicles are generally in a critical condition. In order to maintain their services, many operators are being forced to use vehicles with tyres that in ordinary circumstances, would long ago have been discarded.
Unfit Tyres Used "It is estimated that half the tyres now in use are so worn that they ought to be scrapped; indeed, tyres barely fit for the road have to be used if vehicles are still to be kept in service," says the vehicles committee.
Operators have attempted to meet the situation by retreading used tyres, as is shown by the greatly increased volume of work undertaken by retreading concerns. The same casings cannot, however, be used time after time; even this palliative is not sufficient to save the present desperate situation, the memorandum declared.
Frequent approaches have been made to the Tyre Manufacturers' Conference. The Conference has replied that manufacturers are well aware of the situation and doing their best; but that they could do no more because of various shortages, of which the Government is fully cognizant "If this is the best that manufacturers can do, this Federation desires that the country should know the present position," the memorandum states.
It is, however, sincerely hoped that more effective measures will be put in hand to produce more tyres and to make them available to vehicle operators, both commercial and passenger, as unless steps are taken at once, there is grave danger of a breakdown in all road transport services of the country."
What Will Happen AS exarnplei of specific cases where grave disruption of transport is feared,' the following are cited:— , (i) Livestock-carrying vehicles will soon be unable to run, which would gravely imperil the supply of livestock to the slaughter-houses, and put the meat ration into greater jeopardy.
(ii) Soft-fruit crops may be lost, especially the strawberry and gooseberry crops, which have been preempted for processors.
(iii) Passenger-vehicle services may soon cme to a standstill in many parts of the country.
(iv) Transport of machinery on low-loading trailers may be stopped, as these trailers use special tyres (27 by 6 and 29 by 8).
(v) Coal transport is close to the point of being held up.
The memorandum is signed by Mr.
F. E. Pye, chairman of the vehicles. committee of the National Road Transport Federation.