Liberals Would Destroy 1933 Act,
11th July 1947
Page 29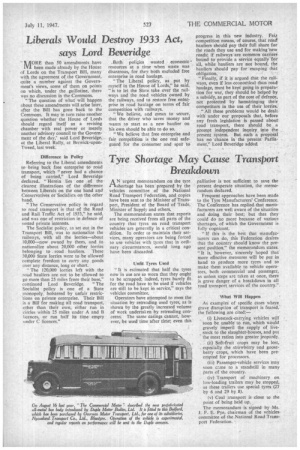 Page 29, 11th July 1947 —
Liberals Would Destroy 1933 Act,
Close
says Lord Beveridge
" NifORE than 50 amendments have 1111 been made already by the House of Lords on the Transport Bill, many with the agreement of the Government, quite a number against the Government's views, some of them on points on which, under the guillotine, there was no discussion in the Commons.
" The question of what will happen about these amendments will arise later, after the Bill has gone back to the Commons. It may in turn raise another .question whether the House of Lords should regard itself as a revising chamber with real power or merely another advisory council to the Government of the day,' said Lord Beveridge. at the Liberal Rally, at Berwick-uponTweed, last week. .Both policies wasted economic • resources at a time when waste was disastrous, for they both excluded free enterprise in road haulage.
"The Liberal policy, as put by myself in the House of Lords," he said, "is to let the State take over the railways and the road vehicles owned by the railways, and to restore free enter; prise in road haulage on terms of fair competition with railways.
"We believe, and mean to secure, that the driver who saves money and wants to start as a new haulier on his own should be able to do so.
"We believe that free enterprise and fair competition is the one real safeguard for the consumer and spur to
progress in this new industry. Fair competition means, of course, that road hauliers should pay their full share for the roads they use and for making 'new roads; if railways are common carriers bound to provide a service equally for all, while hauliers are not bound, the hauliers should pay for -escaping that obligation.
"Finally, if it is argued that the railways, even if less economical than road haulage, must be kept going in preparation for war, they should be helped by a subsidy, as part of the cost of defence, not protected by hamstringing their, competitors in the use of their lorries.
"All these problems would be dealt with under our proposals that, before any fresh legislation is passed about road transport, there should be a prompt independent inquiry into the present system. But such a proposal has no chance in the present Parliament," Lord Beveridge added.