Difference in Policy Referring to the Liberal amendments to bring
11th July 1947
Page 29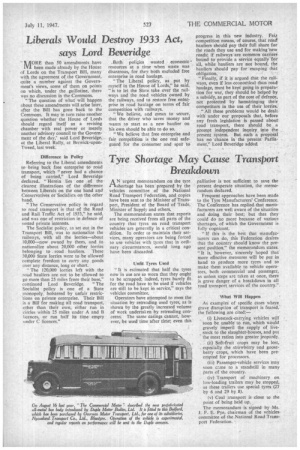 Page 29, 11th July 1947 —
Difference in Policy Referring to the Liberal amendments to bring
Close
back free enterprise to road transport, which "never had a chance of being carried," Lord Beveridge declared. "Herein lies one of the clearest illustrations of the difference between Liberals on the one hand and Conservatives or Socialists on the other hand. "The Conservative policy in regard to road transport is that of the Road and Rail Traffic Act of 1933," he said, and was one of restriction in defence of vested private interests.
The Socialist policy, as set out in the Transport Bill, was to nationalize the railways, with all the lorries—about 10,000—now owned by them, and to nationalize about 20,000 other lorries belonging to road hauliers. These 30,000 State lorries were to be allowed complete freedom to carry any goods over any distance, long or short.
The 120,000 lorries left with the road hauliers are not to be allowed to go more than 25. miles from their base," continued Lord Beveridge. "The Socialist policy is one of a State monopoly, bolstered by unfair restriclions on private enterprise. Their Bill is a Bill for making all road transport, other than their own, either run in circles within 25 miles under A and B licences, or run half its time empty under C licences."