Passing Comments
11th July 1947
Page 26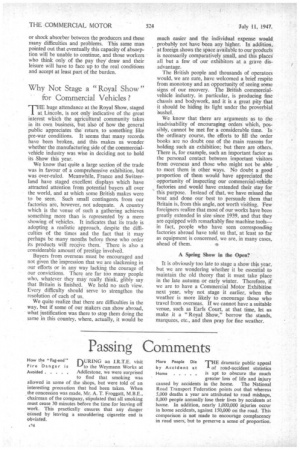 Page 27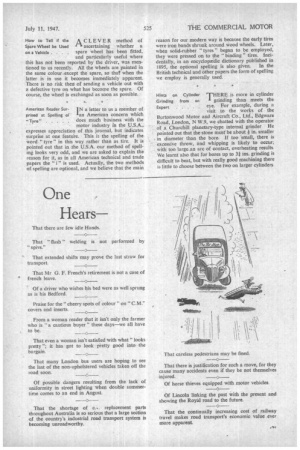 Page 26, 11th July 1947 —
Passing Comments
Close
How the " Fag-end" nURING an I.R.T.E. visit Fire Danger is 1--"to the Weymann Works at Avoided Addlestone, we were surprised to find that smoking was allowed in some of the shops, but were told of an interesting precaution that had been taken. When the concession was made, Mr. A. T. Froggatt, M.B.E., chairman of the company, stipulated that all smoking must cease 30 minutes before the time for leaving off work. This practically ensures that any danger cansed by leaving a smouldering cigarette end is obviated. More People Die THE dramatic public appeal by Accident at of road-accident statistics Home is apt to obscure the much greater loss of life and injury caused by accidents in the home. The National Road Transport Federation points out that whereas 5,000 deaths a year are attributed to road mishaps, 8,000 people annually lose their lives by accidents at home. In addition, nearly 1,000,000 injuries occur in home accidents, against 150,000 on the road. This comparison is not made to encourage complacency in road users, but to preserve a sense of proportion.
How to Tell if the Spare Wheel be Used on a Vehicle . . . .
ACLEVER method of ascertaining whether a spare wheel has been fitted, and particularly useful where this has not been reported by the driver, was mentioned to us recently. All the wheels are painted in the same colour-except the spare, so that when the latter is in use it becomes immediately apparent. There is no risk then of sending a vehicle out with a defective tyre on what has become the spare. Of course, the wheel is exchanged as soon as possible.
American Reader SurIN a letter to us a member of prised at Spelling of Ian American concern which "Tyre" does much business with the motor industry in the U.S.A., expresses appreciation of this journal, but indicates surprise at one feature. This is the spelling of the word " tyre " in this way rather than as tire. It is pointed out that in The U.S.A. our method of spelling looks very odd, and we are asked to explain the reason for it, as in all American technical and trade papers the " i " is used. Actually, the two methods of spelling are optional, and we believe that the main reason for our modern way is because the early tires were iron bands shrunk around wood wheels. Later, when solid-rubber " tyres " began to be employed, they were pressed on to the " binding " tires. Incidentally, in an encyclopaedic dictionary published in 1895, the optional spelling is also given. In the British technical and other papers the form of spelling we employ is generally used.
Hints on Cylinder THERE is more in cylinder Grinding from an I grinding than meets the Expert eye. For example, during a visit to the works of the Burtonwood Motor and Aircraft Co., Ltd., Edgware Road, London, N W.9, we chatted with the operator of a Churchill planetary-type internal grinder He pointed out that the stone mug be about in. smaller in diameter than the bore. If too small, there is excessive throw, and whipping is likely to occur; with too large an arc of contact, overheating results. We learnt also that for bores up to 31 ins, grinding is difficult to beat, but with really good machining there is little to choose between the two on larger cylinders