One Hears
11th July 1947
Page 27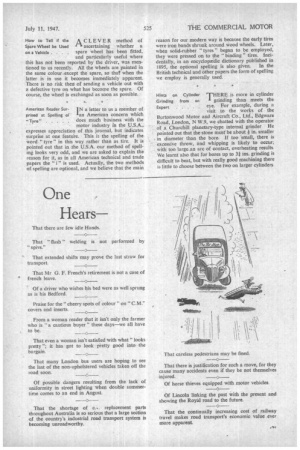 Page 27, 11th July 1947 —
One Hears
Close
That there are few idle Hands.
That " flash " welding is not performed by " spivs."
That extended shifts may prove the last straw for transport.
That Mr G. F. French's retirement is not a case of french leave.
Of a driver who wishes his bed were as well sprung as is his Bedford.
Praise for the" cheery spots of colour" on "CM." covers and inserts.
From a woman reader that it isn't only the farmer who is " a cautious buyer" these days—we all have to be.
That even a woman isn't satisfied with what "looks pretty "; it has got to look pretty good into the bargain.
That many London bus users are hoping to see the last of the non-upholstered vehicles taken off the road soon.
Of possible dangers resulting from the lack of uniformity in street lighting when double summertime comes to an end in August.
• That the shortage of c. v. replacement parts throughout Australia is so serious that a large section the country's industrial road transport system is becoming unroadworthy. That careless pedestrians may be fined.
That there is justification for such a move, for they cause many accidents even if they be not themselves injured.
Of horse thieves equipped with motor vehicles.
Of Lincoln linking the past with the present and showing the Royal road to the future.
That the continually increasing cost of railway travel makes road transport's economic value ever more apparent.