Bouquet by Proxy
11th January 1957
Page 70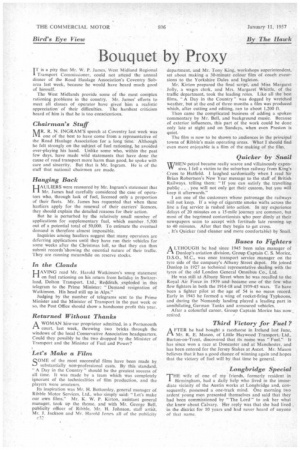 Page 70, 11th January 1957 —
Bouquet by Proxy
Close
Bird's Eye View By The Hawk
I T is a pity that Mr. W. P. James, West Midland Regional
Transport Commissioner, could not attend the annual dinner of the Road Haulage Association's Coventry Subarea last week, because he would have heard much good of himself.
The West Midlands provide some of the most complex rationing problems in the country. Mr. James' efforts to meet all classes of operator have giver( him a realistic appreciation of their difficulties. The harshest criticism heard of him is that he is too conscientious.
Chairman's Stuff
MR. R. N. INGRAM'S speech at Coventry last week was one of the best to have come from a representative of the Road Haulage Association for a long time. Although he felt strongly on the subject of fuel rationing, he avoided over-playing his hand. Unlike some who, within the past few days, have made wild statements that have done the cause of road transport more harm than good, he spoke with care and sincerity. But that is Mr. Ingram. He is of the stuff that national chairmen are made.
Hanging Back
uAULIERS were reassured by Mr. Ingram's statement that
Mr. James had carefully considered the case of operators who, through lack of fuel, licensed only a proportion of their fleets. Mr. James has requested that when these hatthers apply for the renewal of their carriers' licences. they should explain the detailed reasons for their action. But he is perturbed by the relatively small number of applications for supplementary fuel, which number 5,500 out of a potential total of 50,000. To estimate the eventual demand is therefore almost impossible. Inquiries among hauliers suggest that many operators are deferring applications until they have run their vehicles for some weeks after the Christmas lull, so that they can thus submit records'showing the essential nature of their traffic. They are running meanwhile on reserve stocks.
In the Clouds
HAVING read Mr. Harold Watkinson's smug statement on fuel rationing on his return from holiday in Swit7erland, Dolton Transport, Ltd., Redditch. exploded in this telegram to the Prime Minister: "Demand resignation of Watkinson. His head still up in Alps." Judging by the number of telegrams sent to the Prime Minister and the Minister of Transport in the past week or so, the Post Office should show a handsome profit this year.
Returned Without Thanks
AWOMAN hire-car proprietor admitted, in a Portsmouth court, last week, throwing two bricks . through the windows of he local Conservative Association headquarters. Could they possibly be the two dropped by the Minister of Transport and the Minister of Fuel and Power?
Let's Make a Film
SONIE of the most successful films have been made by substantially non-professional casts. By this standard, "A Day in the Country" should be the greatest success of all time. It was made by a team which was completely ignorant of the technicalities of film production, and the players were amateurs.
Its inspiration was Mr. H. Bottomley, general manager of Ribble Motor Services, Ltd.. who simply said: "Let's make our own films." Mr. K. W. P. Kirton, assistant general manager, took up the theme, and with Mr. George Bell, publicity officer of Ribble, Mr. H. Johnson, staff artist, Mr. J. Jackson and Mr. Harold Jone9, all of the publicity department, and Mr. Tony King, workshops superintendent, set about making a 30-minute colour film of coach excursions to the Yorkshire Dales and Ingleton. Mr. Kirton prepared the final script, and Miss Margaret Jolly, a wages clerk, and Mrs. Margaret Whittle, of the traffic department, took the leading roles. Like all the best films, "A Day in the Country" was dogged by wretched weather, but at the end of three months a film was produced which, after cutting and editing, ran to about 1,200 ft. Then came the complicated business of adding a spoken commentary by Mr. Bell, and background music. Because of exterior influences, this part of the work could be done only late at night and on Sundays. when even Preston is quiet. The film is now to be shown to audiences in the principal towns of Ribble's main operating areas. What I should find even more enjoyable is a film of the making of the film.
Quicker by Snail
NIVHEN-petrol became really scarce and villainously expen
sive, I fell a victim to the suburban railway from King's Cross to Hatfield. 1 laughed sardonically when I read Sir Brian Robertson's New Year message to the staff of British Railways, telling them: " If you can satisfy the travelling public . . . you will not only get their custom, but you will keep it afterwards."
1 am one of the customers whose patronage the railways will not keep. If a wisp of cigarette smoke wafts across the line a fog service is rushed into action. In my experience delays of 20 minutes on a 15-mile journey are common, but most of the begrimed contortionists who peer dimly at their newspapers seem to accept with fortitude late running up to 40 minutes. After that they begin to get cross.
, It's Quicker (and cleaner and more comfortable) by Snail.
Buses to Fighters
A LTHOUGH he had since 1945 been sales manager of in. Dunlop's aviation division, Group Captain C. S. Morice, D.S.O., MC., was once transport service manager on the tyre side of the company's Albany Street depot. He joined Dunlop in 1927 as technical representative dealing with the tyres of the old London General Omnibus Co., Ltd.
He was still at Albany Street when he was recalled to the Royal Air Force in 1939 and became one of the few who flew fighters in both the 1914-18 and 1939-45 wars. To have been a fighter pilot at the age of 54 is no mean record. Early in 1943 he formed a wing of rocket-firing Typhoons, and during the Nomandy landing played a leading part in annihilatin&German Tanks and armoured vehicles. After a colourful career. Group Captain /Vlorice has now _ retired.
Third Victory for Fuel ?
AFTER he had bought a racehorse in Ireland last June, Mr. R. E. Mason, of Little Haywood Transport, Ltd., Burton-on-Trent, discovered that its name was "Fuel." It has since won a race at Doncaster and at Manchester, and has been entered for the Jersey Stakes at Ascot. Mr. Mason believes that it has a good chance of winning again and hopes that the victory of fuel will by that time be general.
Longbridge Special
THE wife of one of my friends, formerly resident in Birmingham, had a daily help who lived in the immediate vicinity of the Austin works at Longbridge and, consequently, possessed a one-track mind. One morning two ardent young men presented themselves and said that they had been commissioned by "The Lord" to ask her what she knew about Calvary. Her reply was that she had lived , in the district for 10 years and had never heard of anyone of that name.
Tags
People
:
Margaret Whittle
,
C. S. Morice
,
H. Bottomley
,
H. Johnson
,
George Bell
,
Margaret Jolly
,
Tony King
,
Ingram
,
J. Jackson
,
Brian Robertson
,
W. P. Kirton
,
W. P. James
,
Harold Watkinson
,
R. E. Mason