AN ABC OF TRANSP
11th January 1957
Page 54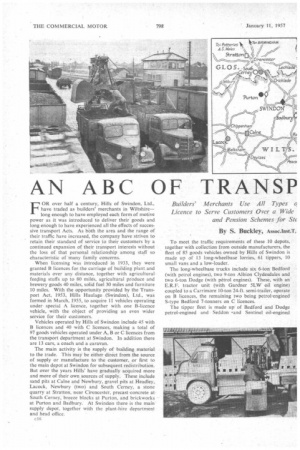 Page 56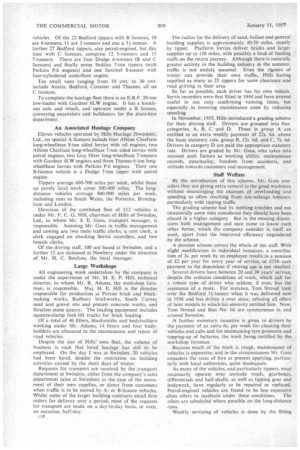 Page 59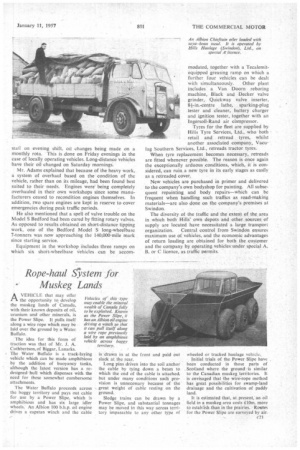 Page 54, 11th January 1957 —
AN ABC OF TRANSP
Close
Builders' Merchants Use Al! Types a Licence to Serve Customers Over a Wide and Pension Schemes for Stc
By S. Buckley, Associnst.T. FOR over half a century, Hills of Swindon, Ltd., have traded as builders' merchants in Wiltshire— long enough to have employed each form of motive power as it was introduced to deliver their goods and long enough to have experienced all the effects of successive transport Acts. As both the area and the range of their traffic have increased, the company have striven to retain their standard of service to their customers by a continued expansion of their transport interests without the loss of that personal relationship among staff so characteristic of 'many family concerns.
When licensing was introduced in 1933, they were granted B licences for. the carriage of building plant. and materials over any distance, together with agricultural feeding stuffs up to 80 miles, agricultural produce and brewery goods 40 miles, solid fuel 30 miles and furniture 10 miles. With the opportunity provided by the Transport Act, 1953, Hills Haulage (Swindon), Ltd., was formed in March, 1955, to acquire 11 vehicles operating under. special A licence, together with one 8-licence vehicle, with the object of providing an even wider service for their customers.
Vehicles operated by Hills of Swindon include 45 with B licences and 40 with C licences, making a total of 97 goods vehicles operated under A, B or C licences from the transport department at Swindon. In addition there are 13 cars, a coach and a caravan.
The main activity is the supply of building material to the trade. This may be either direct from the source of supply or manufacture to the customer, or first to the main depot at Swindon for subsequent redistribution. But over the years Hills' have gradually acquired more and more of their own sources of supply. These include sand pits at Caine and Newbury, gravel pits at Headley, Laeock, Newbury (two) and South Cerney, a stone quarry at Stratton, near Cirencester, precast concrete at South Cerney, breeze blocks at Purton, and brickworks at Purton and Badbury. At Swindon there is the main supply depot, together with the plant-hire department and head office.
clfi To meet the traffic requirements of these 10 depots, together with collection from outside manufacturers, the fleet of 85 goods vehicles owned by Hills of Swindon is made up of 13 long-wheelbase lorries, 61 tippers, 10 small vans and a low-loader.
The long-wheelbase trucks include six 6-ton Bedford (with petrol engines), two 9-ton Albion Clydesdales and two 6-ton Dodge (with petrol engines). These, with an E.R.F. tractor unit (with Gardner 5LW oil engine) coupled to a Carrimore 10-ton 24-ft. semi-trailer, operate on B licences, the remaining two being petrol-engined S-type Bedford 7-tonners on C licences.
The tipper fleet is made up of Bedford and Dodge petrol-engines.1 and Seddon and Sentinel oi4-engined
vehicles. Of the 22 Bedford tippers with B licences, 10 are 6-tonners, 11 are 5-tonners and one a 31-tonner. A further 27 Bedford tippers, also petrol-engined, but this time with C licences, comprise 12 5-tonners and 15 7-tonners. There are four Dodge 6-tonners (B and C licences) and finally seven Seddon 7-ton tippers (with Perkins P.6 engines) and one Sentinel 8-tonner with four-cylindered underfloor engine.
Ten small vans ranging from 10 cwt. to 30 cwt. include Austin, Bedford, Commer and Thames, all on C licences.
To complete the haulage fleet there is an E.R.F. 20-ton low-loader with Gardner 6LW engine. It has a knockout axle and winch, and operates under a B licence, conveying excavators and bulldozers for the plant-hire department.
An Associated Haulage Company
Eleven vehicles operated by Hills Haulage (Swindon), Ltd., on special A licences include four Albion Chieftain long-wheelbase 8-ton sided lorries with oil engines, two Albion Chieftain long-wheelbase 7-ton sided lorries with petrol engines, two Guy Otter long-wheelbase 7-tonners with Gardner 4LW engines and three Thames 6-ton long. wheelbase lorries with Perkins P.6 engines. Their one B-licence vehicle is a Dodge 7-ton tipper with petrol engine.
Tippers average 600-700 miles per week, whilst those on purely local work cover 300-400 miles. The longdistance vehicles average 800-900 miles per week, including runs to South Wales, the Potteries, Birmingham and London.
Direction of the combined fleet of 112 vehicles is under Mr. F. C. G. Hill, chairman of Hills of Swindon, Ltd., to whom Mr. S. E. Goss, transport manager, is responsible. Assisting Mr. Goss in traffic management and costing are two male traffic clerks, a cost clerk, a clerk engaged on checking Servis recorders, and two -female clerks.
Of the driving staff, 100 are based at Swindon, and a further 12 are stationed at Newbury under the direction of Mr. H. C. Boultom, the local manager.
Large Workshops
All engineering work undertaken by the company is under the supervision of Mr. M. E. P. Hill, technical director, to whom Mr. R. Adams, the workshop foreman, is responsible. Maj. H. E. Hill is the director responsible for production at Purton brick and blockmaking works, Badbury brickworks, South Cerney sand and gravel site and precast concrete works, and Stratton stone quarry.. The loading equipment includes squeeze-clamp ft:irk-lift trucks for brick loading.
Of a total of 46 fitters, blacksmiths and bodybuilders working under Mr. Adams, 14 fitters and four bodybuilders are allocated to the maintenance and repair of road vehicles.
Despite the size of Hills' own fleet, the volume of business is, such that hired haulage has still to be employed. On the day I was at Swindon, 20 vehicles had been hired, despite the restriction on building activities caused by the short days of winter.
Requests for transport are received by the transport department at Swindon, either from the company's sales department (also at Swindon) in the case of the movement of their own supplies, or direct from customers when traffic is to be moved by Aor B-licence vehicles. • Whilst some of the larger building contracts entail firm orders for delivery over a period, most of the requests for transport are made on a day-to-day basis, or even, on occasion, half-day.
r 1 a The radius for the delivery of sand, ballast and general building supplies is approximately 40-50 miles, mostly by tipper. Platform lorries deliver bricks and larger supplies up to 150 miles, with possibly a load of feeding stuffs on the return journey. Although there is naturally greater activity in the building industry in the summer, traffic is not unduly seasonal. Even the rigours of winter can provide their own traffic, Hills having supplied as many as 25 tippers for snow clearance and road gritting in their area So far as possible, each driver has his own vehicle. Servis recorders were first fitted in 1944 and have proved useful in not only confirming running times, but especially in lowering maintenance costs by reducing speeding.
In November, 1955, Hills introduced a grading scheme for their driving staff. Drivers are grouped into four categories, A, B, C and D. Those, in group A are entitled to an extra weekly payment of 22s. 6d. above the basic statutory rate. group B, 12s. 6d. and C, 7s. 64. Drivers in category D are paid the appropriate statutory rate. Drivers are graded by Mr. Goss, who takes into account such factors as working ability, maintenance records, punctuality, freedom from accidents, and attitude towards customers and management.
Staff Welfare
By the introduction of this scheme, Mr. Goss considers they are giving extra reward to the good workmen without encouraging the excesses of overloading and speeding so often resulting from ton-mileage bonuses. particularly with tipping traffic.
The grading scheme had its teething troubles and not unnaturally some men considered they should have been placed in a higher category. But in the ensuing discussions both management and men came to know each other better, which the company consider is itself an asset, apart from the improved efficiency engendered • by the scheme.
A pension scheme covers the whole of the staff. With slight modification in individdal instances, a contribution of 3s. per week by an employee results in a pension of £2 per year for every year of service, or £250 cash payment to the dependant if retiring age is not reached.
Several drivers have between 20 and 30 Years' service, despite the arduous conditions of work, which call for a robust type of driver who seldom, if ever, has the assistance of a mate. For instance, Tom Stroud took over the Bedford 31-tonner when it was delivered new in 1936 and has driven it ever since, refusing all offers of later models to which his seniority entitled him. Now, Tom Stroud and fleet N. 66 are synonymous in and around Swindon.
A further monetary incentive is given to drivers by the payment of an extra 6s. per week for cleaning their vehicles and cabs and for maintaining tyre pressures and topping-up of batteries, the work being certified by the workshop foreman.
Because much of the work is rough, maintenance of vehicles is expensive, and in the circumstances Mr. Goss considers the rates of hire at present applying, particularly with local authorities, quite inadequate.
As many of the vehicles, and particularly tippers, must necessarily operate over unmade roads, gearboxes, differentials and half-shafts, as well as tipping gear and bodywork, have regularly to be repaired or replaced. Petrol-engined vehicles are found to be less expensive than oilers to maintain under these conditions. The oilers are scheduled where possible on the long-distance MILS.
Weekly servicing of vehicles is done by the fitting stall on evening shift, oil changes being made on a monthly rota. This is done on Friday evenings in the case of locally operating vehicles. Long-distance vehicles have their oil changed on Saturday mornings.
Mr. Adams explained that because of the heavy work, a system of overhaul based on the condition of the vehicle, rather than on its mileage, had been found best suited to their needs. Engines were being completely overhauled in their own workshops since some manufacturers ceased to recondition engines themselves. In addition, two spare engines are kept in reserve to cover emergencies during peak traffic periods.
He also mentioned that a spell of valve trouble on the Model S Bedford had been cured by fitting rotary valves. As opposed to results obtained on short-distance tipping work, one of the Bedford Model S long-wheelbase 7-tonners was now approaching the 140,000-mile mark since starting service.
Equipment in the workshop includes three ramps on which six short-wheelbase Vehicles can be accom
modated, together with a Tecalemitequipped greasing ramp on which a further four vehicles can be dealt
with simultaneously. Other plant includes a Van Doom n reboring machine, Black and Decker valve grinder, Quickway valve inserter, 81-in.-centre lathe, sparking-plug tester and cleaner, battery charger and ignition tester, together with an Ingersoll-Rand air compressor.
Tyres for the fleet are supplied by Hills Tyre Services, Ltd., who both retail and retread tyres, whilst another associated company, Vaculug Southern Services, Ltd., retreads tractor tyres.
When tyre replacement becomes necessary, retreads are fitted whenever possible. The reason is once again the exceptionally arduous conditions, which, it is considered, can ruin a new tyre in its early stages as easily
as a retreaded cover:
New vehicles are purchased in primer and delivered to the company's own bodyshop for painting. All subsequent repainting and body repairs—which can be frequent when handling such traffics as road-making materials—are also done on the company's premises at Swindon.
The diversity of the traffic and the extent of the area in which both Hills' own depots and other sources; of supply are located have necessitated a large transport organization. Central control from Swindon ensures maximum use of vehicles, and the economic advantages of return loading are obtained for both the customer and the company by operating vehicles under special A, B, or C licence, as traffic permits.