From Trams to Buses in Four Years
11th January 1957
Page 52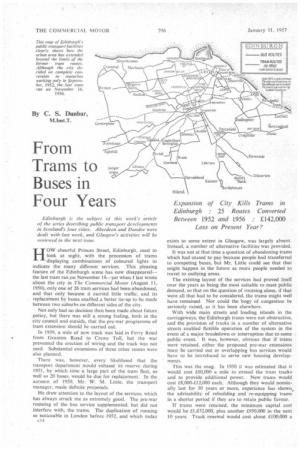 Page 53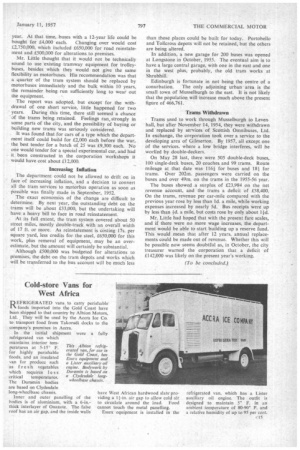 Page 52, 11th January 1957 —
From Trams to Buses in Four Years
Close
Edinburgh is the subject of this week's article of the series describing public transport developments in Scotland's four cities. Aberdeen and Dundee were dealt with•last week, and Glasgow's activities will be reviewed in the next issue.
HOW cheerful Princes Street, Edinburgh, used to look at night, with the procession of trams displaying combinations of coloured lights to indicate the many different services. This pleasing feature of the Edinburgh scene has now disappeared— the last tram ran ,on November 16—yet when I last wrote about the city in The Commercial Motor (August 11, 1950), only one of 26 tram services had been abandoned, and that only because it carried little traffic. and its replacement by buses enabled a better tie-up to be made between two suburbs on different sides of the city.
Not only had no decision then been made about future, policy, but there was still a strong feeling, both in the city council and outside, that the pre-war programme of tram extension should be carried out.
In 1939, a mile of new track was laid in Ferry Road from Granton Road to Crewe Toll, but the war prevented the erection of wiring and the track was not used. Substantial extensions of three other routes were also planned,
There was, however, every likelihood that the transport department _would exhaust its reserve during 1951, by which time a large part of the tram fleet, as well as 20 buses, would be due for replacement. In the autumn of 1950. Mr. • W. M. Little. the transport manager, made definite proposals.
He drew attention to the layout of the services, which has always struck me as extremely good. The pre-war routeing of the bus service supplemented, but did not interfere with, the trams. The duplication of running so noticeable in London before 1952. and which today c14 exists to some extent in Glasgow, was largely absent. Instead, a number of alternative facilities was provided.
It was not at that time a question of abandoning trams which had ceased to pay because people had transferred to competing buses, but Mr. Little could see that that might happen in the future as more people needed to travel to outlying areas.
The existing layout of the services had proved itself over the years as being the most suitable to meet public demand, so that on the question of routeing alone, if that were all that had to be considered, the trams might well have remained. Nor could the bogy of congestion be seriously raised, as it has been elsewhere.
With wide main streets and loading islands in the carriageways, the Edinburgh trams were not obstructive, and the provision of tracks in a number of alternative streets enabled flexible operation of the system in the event of a major breakdown or interruption due to some public event It was, however, obvious that if trams were retained, either the proposed pre-war extensions must be carried out or overlapping bus services would have to be introduced to serve new housing developmeats.
This was the snag. In 1950 it was estimated that it would cost £60,000 a mile to extend the tram tracks and to provide additional power. New trams would cost £8,000-£12,000 each. Although they would nominally last for 30 years or more, experience has shown, the advisability of rebuilding and re-equipping trams in a shorter period if they are to retain public favour.
If trams were retained, the minimum capital cost would be £1,632,000, plus another £950,000 in the next 10 years. Track renewal would cost about £100,000 a
year. At that time, buses with a I2-year life could be bought for £4,000 each. Changing over would cost £2,750,000, which included £650,000 for road reinstatement and £500,000 for alterations to premises.
Mr. Little thought that it would not be technically sound to use existing tramway equipment for trolleybuses, besides which they would not give the same flexibility as motorbuses. His recommendation was that a quarter of the tram system should be replaced by motorbuses immediately and the bulk within 10 years, the remainder being run sufficiently long to weal' out lhe equipment.
The report was adopted, but except for the withdrawal of one short service, little happened for two
years. During this time, there still seemed a chance 'of the trams being retained. Feelings ran.strongly in some parts of the city, and the possibility of buying or building new trams was seriously considered.
It was found that for cars of a type which the department itself could build for £2,000 each before the war, the best tender for a batch of 25 was £9,300 each. No one would tender for a special experimental car, and had it been constructed in the corporation workshops it would have cost about £12,000.
Increasing Inflation
The department could not be allowed to drift on in face of increasing inflation, and a decision to convert all the tram services to motorbus operation as soon as possible was finally made in September, 1952.
The exact economics of the change are difficult to determine. By next year, the outstanding debt on the trams will be about £33,000, but the undertaking will have a heavy bill to face in road reinstatement.
At its full extent, the tram system covered about 50 street miles, mostly double-track with an overall width of 17 ft. or more. As reinstatement is costing 17s. per square yard, less credits for the steel, £650,000 for this work, plus removal of equipment, may be an overestimate, but the amount will certainly be substantial.
Although £500,000 was budgeted for alterations to premises, the debt on the tram depots and works which will be transferred to the bus account will be much less than those places could be built for today. Portobello and Tollcross depots will not be retained, but the others are being altered.
In addition, a new garage for 200 buses was opened at Longstone in October, 1955. The eventual aim is to have a large central garage, with one in the east and one in the west plus, probably, the old tram works at Shrubhill.
Edinburgh is fortunate in not being the centre of a
conurbation. The only adjoining urbanarea is the small town of Musselburgh to the east. It is not likely that the population will increase much above the present figure of 466,761.
Trams Withdrawn
Trams used to work through Musselburgh to Leven. hall, but after November 14, 1954, they were withdrawn and replaced by services of Scottish Omnibuses, Ltd. In exchange, the corporation took over a service to the developing area of Gilmerton. By 1957, all except one of the services, where a low bridge interferes, will be worked by double-deckers.
On May 28 last, there were 505 double-deck buses, 100 single-deck buses, 20 coaches and 99 trams. Route mileage at that date was 1161 for buses and 181 for trams. Over 202m. passengers were carried on the buses and over 49m. on the trams in the 1955-56 year.
The buses showed a surplus of £23,984 on the net revenue account, and the trams a deficit of £58,400. On the trams, revenue per car-mile compared with the previous year-rose by less than Id. a mile, while working expenses increased by nearly 5d. Bus receipts were, up by less than-id. a mile, but costs rose by only about lid.
Mr. Little had hoped that with the present fare scales, and if there were no more wage increases, the department would be able to start building up a reserve fund. This would mean that after 12 years, annual replacements could be made out of revenue. Whether this will be possible now seems doubtful as, in October, the city treasurer warned the corporation that a deficit of £142,000 was likely on the present year's working.