Cold-store Vans for West Africa
11th January 1957
Page 53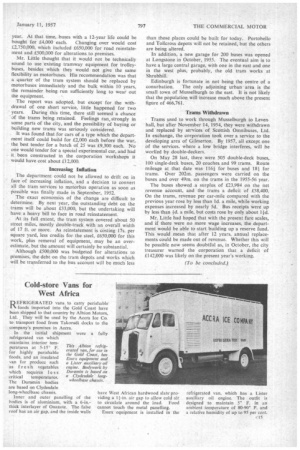 Page 53, 11th January 1957 —
Cold-store Vans for West Africa
Close
DEFRIGERATED vans to carry perishable 1N. foods imported into the Gold Coast have been shipped to that country by Albion Motors, Ltd.. They will be used by the Accra Ice Co. to transport food from Takoradi docks to the company's premises in Accra.
In the initial shipment were a fully refrigerated van which maintains interior temperatures at 5-15° F. for highly perishable foods, and an insulated van for produce such as fresh vegetables which requires less critical temperatures. The Durarnin bodies are based on Clydesdale long-wheelbase chassis.
Inner and outer panelling of the bodies is of aluminium, with a 6-in.thick interlayer of Onazote. The false roof has an air gap, and the inside walls
This Albion refrigerated van, for use in the Gold Coast, has Essex equipment and a Lister auxiliary oil engine. Bodywork by Duramin is based on a Clydesdale long wheelbase chassis.
have West African hardwood slats'providing a 11-in, air gap to allow cold air to circulate around the load. Food cannot touch the metal panelling.
Essex equipment is installed in the
refrigerated van, which has a Lister auxiliary oil engine. The outfit is designed to maintain 5° F. in an ambient temperature of 80-90° F. and a relative humidity of up to 95 per cent.