B.O.C. Profits Too High, Say Commission
11th January 1957
Page 47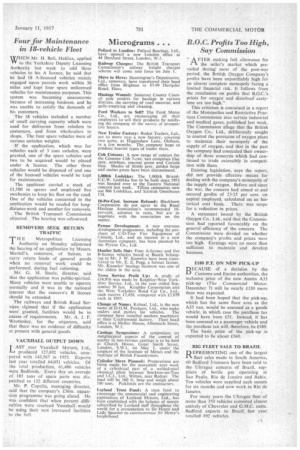 Page 47, 11th January 1957 —
B.O.C. Profits Too High, Say Commission
Close
" AFTER making full allowance for the seller's market which prevailed during most of the post-war period, the British Oxygen Company's profits have been unjustifiably high for an almost complete monopoly facing a limited financial risk. It follows from the conclusion on profits that B.O.C.'s prices for oxygen and dissolved acetylene are too-high."
This criticism is contained in a report of the Monopolies and Restrictive Practices Commission into certain industrial and medical gases, published last week_ The Commission allege that the British Oxygen Co., Ltd., deliberately sought to control the provision of oxygen plant to maintain their monopoly of the supply of oxygen, and that in the past the company had concealed their ownership of three concerns which had continued to trade ostensibly in competition with them.
Existing legislation, says the report, did not provide effective means for dealing with the company's monopoly of the supply of oxygen. Before and since the war. the concern had aimed at and secured profits of 23-25 per cent. on capital employed, calculated on an historical cost basis. There was scope for a reduction in prices.
A statement issued by the British Oxygen Co., Ltd., said that the Commission had reported favourably on the general efficiency of the concern. The Commission were divided on whether the company's profits and prices were too high. Earnings werc no more than sufficient to maintain and develop business.
fin P.T. ON NEW PICK-UP
BECAUSE of a decision by the J-) Customs and Excise authorities, the inclusive price of the new Austin A35 pick-up (The Commercial Motor. December 7) will be nearly £130 more than was expected.
It had been hoped that the pick-up, which has the same floor area as the A35 van, would be assessed as a goods vehicle, in which case the purchase tax would have been £51. Instead, it has• been assessed as a passenger vehicle and the purchase tax will, therefore. be £180.
The basic price of the pick-up is expected to be about £360, BIG FLEET SALE TO BRAZIL
REPRESENTING one of the largest fleet sales made in South America, 60 Bedford 5-tonners have been sold to the Ultragaz concern of Brazil, suppliers of bottle gas operating in Sao Paulo, Rio de Janeiro and Bahia. Ten vehicles were supplied each month for six months and now work in Rio de Janeiro.
For many years the Ultragaz fleet of more than 350 vehicles consisted almost entirely of Chevrolet and G.M.C. units. Bedford exports to Brazil, last year totalled 492 vehicles.