Tram Conversion Plan Attacked
11th January 1957
Page 46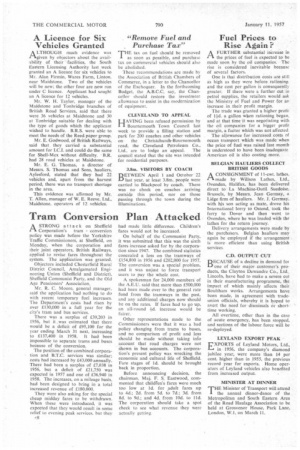 Page 46, 11th January 1957 —
Tram Conversion Plan Attacked
Close
ASTRONG at tack on Sheffield Corporation's tram conversion policy was made before the Yorkshire Traffic Commissioners, at Sheffield, on Monday, when the corporation and their joint operators. British Railways, applied to revise fares throughout the system. The application was granted.
Objectors included Chesterfield Rural District Council, Amalgamated Engineering Union (Sheffield and District), Sheffield Communist Party, and the Old Age Pensioners' Association.
Mr. R. C. Moore, general manager. said the application had nothing to do with recent temporary fuel increases. The Department's costs had risen by over £130,000 in a full year for the city's tram and bus services.
There was a surplus of £39,203 in 1956, but it was estimated that there would be a deficit of £95,100 for the year ending March 31 next, increasing to £137,400 in 1958. It had been impossible to separate trams and buses because of the conversion.
The position of the combined corporation and B.T.C. services was similar; costs had increased by £43.000 annually. There had been a surplus of 17,038 in 1956, but a deficit of £21,750 was expected in 1957 and one of £36,940 in 1958. The increases, on a mileage basis. had been designed to bring in a total increased revenue of £180.000.
They were also asking for the special cheap midday fares to be withdrawn. When these were introduced, it was expected that they would result in some relief to evening peak services, but they ss,8 had made little difference. Children's fares would not be increased.
On behalf of the Communist Party, it was submitted that this was the sixth fares increase asked for by the corporation since 1947. The combined statistics concealed a loss on the tramways of £154,800 in 1956 and £202,000 for 1957. The conversion was a special problem, and it was unjust to force transport users to pay the whole cost.
A spokesman for 24,000 members of the A.E.U. said that more than £500,000 had been made over to the general rate fund from the tramways in the past, and any additional charges now should be on the rates. If fares had to go up, an all-round +d. increase would be fairer.
Other representations made to the Commissioners were that it was a bad policy changing from trams to buses, and no comparison of profit and loss should be made without taking into account that road charges were not shown in bus accounts. The corporation's present policy was wrecking the economic and cultural life of Sheffield. Fare stages of Id. should be brought back in proportion.
Before announcing decision, the chairman. Maj. F. S. Eastwood, commented that childFen's fares were much too low at Id. for ,adult fares up to 4d.; 2d. from 5d. to 7d.; 3d. from Rd. to 9d.; and 4d. from 10d. to 11d. The corporation should take a spot check to see what revenue they were actually getting.