Trunk Hauliers Listed: Interworking Aid
11th January 1957
Page 45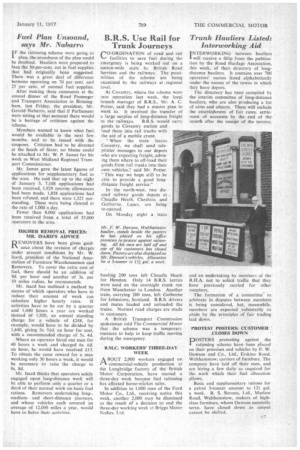 Page 45, 11th January 1957 —
Trunk Hauliers Listed: Interworking Aid
Close
INTERWORKING between hauliers I will receive a fillip from the publication by the Road Haulage Association, this week, of their directory of longdistance hauliers. It contains over 700 operators' names listed alphabetically under the names of the towns in which they have depots.
The directory has been compiled by the interim committee of long-distance hauliers, who are also producing a list of aims and objects. These will include the establishment of fair rates; settlement of accounts by the end of themonth after the receipt of the invoice, and an undertaking by members of the R.H.A, not to solicit traffic that they have previously carried for other members.
The formation of a committee to arbitrate in disputes between members is being considered, but, meanwhile, members are expected voluntarily to abide by the principles of fair trading laid down.
PROTEST POSTERS: CUSTOMER CLOSES DOWN
POSTERS protesting against the I rationing scheme have been placed on their premises and vehicles by F. W. Dawson and Co., Ltd:, Erskine Road, Waltharnstow, carriers of furniture. The company have laid off their men, and are hiring a few daily as required for the work which their fuel allocation
Basic and supplementary rations for a petrol 3-tonner amount to IR gal. a week. R. S. Stevens, Ltd., Marlow Road, Walthamstow. makers of highclass furniture, whom Dawson normally serve, have closed down as output cannot be shifted.