Fuel Plan Unsound, says Mr. Nabarro
11th January 1957
Page 45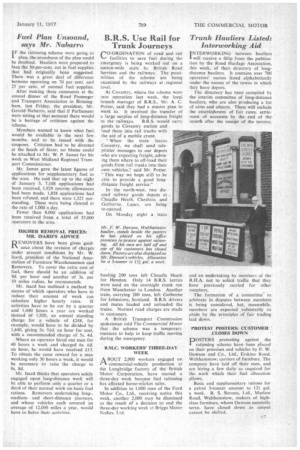 Page 45, 11th January 1957 —
Fuel Plan Unsound, says Mr. Nabarro
Close
IF the rationing scheme were going to
plan, the soundness of the plan could be doubted. Hauliers were prepared to face the 30-per-cent, cut in fuel supplies that had originally been suggested. There was a great deal of difference between operating on 70 per cent. and 25 per cent, of normal fuel supplies.
After making these comments at the annual dinner of the Road Passenger and Transport Association in Birmingham, last Friday, the president, Mr. Gerald Nabarro, said that if Parliament were sitting at that moment there would be a barrage of crititism against the scheme.
Members wanted to know what fuel, would be available in the next few months, and to be issued with the coupons. Criticism had to be directed at the heads of State: no blame could be attached to Mr. W. P. James for his work as West Midland Regional Transport Commissioner, Mr. James gave the latest figures of applications for supplementary .fuel in the area. He said that up to the night of January 3, 7,108 applications had been received, 3,929 interim allowances had been made. 1,858 applications had been refused, and there were 1,321 outstanding. These were being cleared at the rate of 1,000 a day.
Fewer than 8,000 applications had been received from a total of 55,000 operators in the area.
HIGHER REMOVAL PRICES: MR. ISARD'S ADVICE EIN EMOVERS have been given 'guid ance about the revision of charges under present conditions by Mr. W. Isard, president of the National Association of Furniture Warehousemen and Removers. To cover the extra cost of fuel, there should be an addition of 9d. per hour and another of 3s. per 10 miles radius, he recommends.
Mr. Isard has outlined a method by means of which operators who have to reduce their amount of work can calculate higher hourly rates. If activities have to be cut by a quarter and 1,440 hours a year are worked instead of 1,920, an annual standing charge for a vehicle of £248, for example, would have to be divided by 1,440, giving 35. 54-d. an hour for cost, with a recommended charge of 5s. 4d.
Where an operator hired out men for 40 hours a week and charged 6s. 6d. an hour, he would have received £13. To obtain the same reward for a man working only 30 hours a week, it would be necessary to raise the charge to 8s. 8d.
Mr. Isard thinks that operators solely engaged upon long-distance work will be able to perform only a quarter or a third of their normal work on basic fuel rations. Removers undertaking long-. mediumand short-distance journeys, and whose vehicles each covered an average of 12,000 miles a year. would have to halve their activities.