"Vehicle Bought for Special A Licence": No Substitution
11th January 1957
Page 41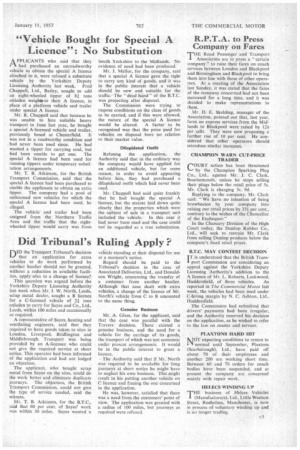 Page 41, 11th January 1957 —
"Vehicle Bought for Special A Licence": No Substitution
Close
A PPLICANTS who said that they had purchased an unroadworthy vehicle to obtain the special A licence attached to it, were refused a substitute vehicle by the Yorkshire Deputy Licensing Authority last week. Fred Chappell, Ltd., Batley, sought to add an eight-wheeled tipper of 81 tons unladen weigh.to their A licence, in place of a platform vehicle and trailer under special A licence.
Mr. R. Chappell said that because he was unable to hire suitable heavy transport in June last year, he bought a special A-licensed vehicle and trailer, previously based at Chesterfield. It was not in a roadworthy condition and had never been used since. He had wanted a tipper for carrying coal, but had been unable to get one, The special A licence had been used for running tippers under temporary substitution arrangements.
Mr. T. B. Atkinson, for the British Transport Commission, said that the special A licence had been purchased to enable the applicants to obtain an extra tipper. The company had a pool of unlicensed new vehicles for which the special A licence had been used, he alleged.
The vehicle and trailer had been assigned from the Northern Traffic Area and the traffic that the eightwheeled tipper would carry was from South Yorkshire to the Midlands. No evidence of need had been produced. Mr. J. Mellor, for the company, said that a special A licence gave the right to carry any kind of goods, and it was in the public interest that a vehicle should be new and suitable for the traffic. The "dead hand" of the B.T.C. was projecting after disposal.
The Commission were trying to impose conditions on the class of goods to be carried, and if this were allowed, the nature of the special A licence would be altered. A factor to be recognized was that the price paid for vehicles on disposal bore no relation to their market value.
Dilapidated Outfit Refusing the application, the Authority said that in the ordinary way the company wquld have applied for an additional vehicle, but for some reason, in order to avoid appearing before him, they had purchased a dilapidated outfit which had never been used.
Mr. Chappell had said quite frankly that he had bought the special A licence, but the statute laid down quite clearly that the properties which were the subject of sale in a transport unit included the vehicle: In this case it had never been used and the case could not be regarded as a true substitution.