Did Tribunal's Ruling Apply ?
11th January 1957
Page 41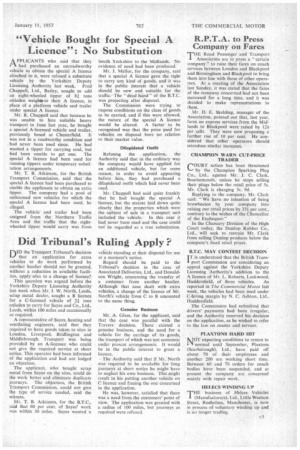 Page 41, 11th January 1957 —
Did Tribunal's Ruling Apply ?
Close
niID the Transport Tribunal's decision
that an application for extra vehicles to do work performed by another haulier should not be granted, without a reduction in available facilities, apply also to a change of licence?
This question was argued before the Yorkshire Deputy Licensing Authority last week when Mr. J. W. North, Leeds, scrap metal dealer, sought a B licence for a C-licensed vehicle of 21 tons unladen to carry for Sayes and Co., Ltd., Leeds, within 100 miles and occasionally as required.
A representative of Sayes, heating and ventilating engineers, said that they .required to have goods taken to sites in London, Liverpool, Bridlington and Middlebro ugh. Transport was being provided by an A-licensee who could not give the required service at short notice. This operator had been informed of the application and had not lodged an objection.
The applicant, who bought scrap metal from Sayes on the sites, could do the work better and eliminate duplicate journeys. The objectors, the British Transport Commission, could not give the type of service needed, said the witness.
Mr. T. B. Atkinson, for the B.T.C., said that 60 per cent. of Sayes' work was within 30 miles. Sayes wanted a vehicle standing at their disposal for use at a moment's notice.
Regard should be paid to the Tribunal's decision in the Case of Associated Deliveries, Ltd., and Donaldson Wright, concerning the transfer of a customer from another haulier. Although that case dealt with extra vehicles, a change of the licence of Mr. North's vehicle from C to B amounted to the same thing.
Genuine Business Mr. A. Glass, for the applicant, said that the case was parallel with the Travers decision. There existed a genuine business, and the need for a vehicle for the carriage of its goods, the transport of which was not economic under present arrangements. It would be in the public interest to grant a licence.
The Authority said that if Mr. North was required to be available for long journeys at short notice he might have to neglect his own business. This might result in his putting another vehicle on C licence and freeing the one concerned in the application.
He was, however, satisfied that there was a need from the customers' point of view. The application was granted with a radius of 100 miles, but journeys as required were refused.