Fuel Exhausted: 200 Drivers Suspended
11th January 1957
Page 39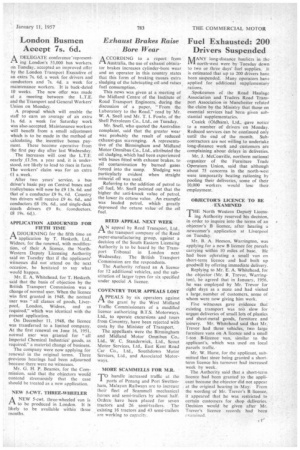 Page 39, 11th January 1957 —
Fuel Exhausted: 200 Drivers Suspended
Close
h/TANY long-distance hauliers in the
north-west were by Tuesday down to two or three days' fuel supplies. It is estimated that up to 200 drivers have been suspended. Many operators have applied for additional supplementary rations.
.Spokesmen of the Road Haulage Association and Traders Road Transport Association in Manchester refuted the claim by the Ministry that those on essential services had been given substantial supplementaries.
Cusick (Oldham), Ltd., gave notice to a number of drivers on Monday. Reduced services an be continued only until the end of the month. Subcontractors are not willing.to undertake long-distance work and customers arc complaining about delays in deliveries.
Mr. J. McConville, northern national organizer of the Furniture Trade Operators Union, said that although about 75 concerns in the north-west were temporarily beating rationing by pooling their deliveries, some of their 10.000 workers would lose their. employment.
OBJECTOR'S LICENCE TO BE EXAMINED
THE North Western Deputy Licensing Authority reserved his decision, in order to inquire into the terms of an objector's B licence, after hearing a newcomer's application at Liverpcol on Tuesday.
Mr. B. A. Heeson, Warrington, was applying for a new B licence for parcels carrying within 10 miles of base. He had been operating a small van on short-term licence and had built tip goodwill by offering immediate delivery.
Replying to Mr. E. A. Whitehead, for the objeCtor (Mr. K. Trevor, Warrington), he agreed that in January, 1956. he was employed by Mr. Trevor for eight days as a mate and had visited a large, number of customers, some of whom were now giving him work.
Five witnesses gave evidence that existing transport was too slow for urge,nt deliveries of small lots of plastics and sheet-metal goods, furniture and joinery. Mr. Whitehead said that Mr. Trevor had three vehicles, two large furniture vans on A licence and a small 1-ton B-licence van, similar to the applicant's, which was used on local parcels traffic.
Mr. W. Hurst, for the applicant, submitted that since being granted a shortterm licence his turnover had increased week by week.
The Authority said that a short-term licence had been granted to the applicant because the objector did not appear , at the original hearing in .May. From the wording of Mr. Trevor's B licence, it appeared that he was restricted to certain customers for shop deliveries. Decision would be given after Mr. Trevor's licence records had been oxamined.