Exhaust Brakes Raise Bore Wear
11th January 1957
Page 39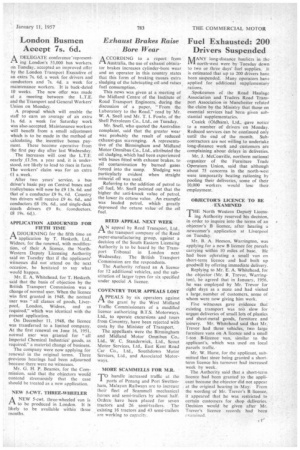 Page 39, 11th January 1957 —
Exhaust Brakes Raise Bore Wear
Close
A, CCORDING to a report from rA Australia, the use of exhaust obturator brakes increases cylinder-bore wear and an operator in this country states that this form of braking causes extra studging of the lubricating oil and raises, fuel consumption.
This news was given at a meeting of the Midland Centre of the Institute of Road Transport Engineers, during the discussion of a paper, " From the Laboratory to the Road," read by Mr. W. A. Snell and Mr. T. I. Fowle, of the Shell Petroleum Co" Ltd., on Tuesday.
Mr. Snell. who quoted the Australian complaint, said that the greater wear was probably the result of reduced exhaust-gas scavenging. A representative of the Birmingham and Midland Motor Omnibus Co., Ltd., attributed the oil sludging.which had been experienced
with buses fitted with exhaust brakes_ to oil contamination by burned gases forced into the sump. Sludging was particularly evident when straight mineral oil was used.
Referring to the addition of petrol to oil fuel, Mr. Snell pointed out that the higher the anti-knock value of petrol. the lower its cctane value. An example was leaded petrol, which greatly depressed the cetane value of the oil fuel.
REED APPEAL NEXT WEER
AN appeal by Reed Transport, Ltd" the transport company of the Reed paper-manufacturing group, against a decision of the South Eastern Licensing Authority is to be heard by the Transport Tribunal in London next Wednesday. The British Transport Commission are the respondents.
The Authority refused an A licence for 12 additional vehicles, and the substitution of larger types for six specified under special A licence.
COVENTRY TOUR APPEALS LOST
APPEAL S by six operators against the grant by the West Midland Traffic Commissioners of a modified licence authorizing B.T.S. Motorways. Ltd., to operate excursions and tours from Coventry, have been rejected with costs by the Minister of Transport.
The appellants Were the Birmingham and Midland Motor Omnibus Co., Ltd., W. C. Standerwick, Ltd., Scout Motor Services, Ltd.. East Kent Road Car Co., Ltd., Southdown Motor Services, Ltd., and Associated Motorways.
MORE SCAM1VIELLS FOR M.R.
Phandle increased traffic at the ports of Penang and Port Swettenham, Malayan Railways are to increase their fleet of Scammell mechanical horses and semi-trailers by about half. Orders have been placed for seven tractors and 26 semi-trailers. The existing 16 tractors and 43 semi-trailers are working to carricitv.