One Hears
11th January 1957
Page 33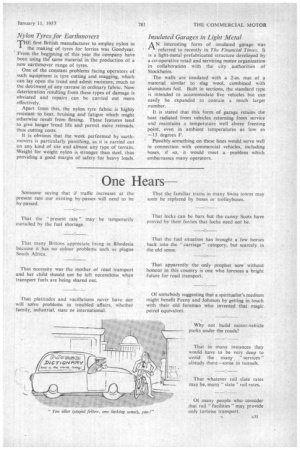 Page 33, 11th January 1957 —
One Hears
Close
Someone saying that if traffic increases at the present rate our existing by-passes will need to be by-passed.
That the "present rate" may be temporarily curtailed by the fuel shortage.
That many Britons appreciate living in Rhodesia because it has no colour problems such as plague South Africa.
That necessity was the mother of road transport and her child should not be left necessitous when transport fuels are being shared out.
That platitudes and vacillations never have nor will solve problems in troubled affairs, whether family, industrial, state or international. That the familiar trams in many Swiss towns may soon be replaced by buses or trolleybuses.
That locks can be bars but the canny Scots have proved by their ferries that lochs need not be.
That the fuel situation has brought a few horses back into the "carriage" category, but scarcely in the old sense.
That apparently the only prophet now without honour in this country is one who foresees a bright future for road transport.
Of somebody suggesting that a spiritualist's medium might benefit Feeny and Johnson by getting in touch with their old foreman who invented that• magic petrol equivalent.
Why not build motor-vehicle parks under the roads?
That in many instances they would have to be very deep to avoid the many services" already there—some in tunnels.
That whatever rail slate rates may be, many " slate " rail rates.
Of many people who consider that rail " facilities " may provide only tortoise transport.