The Price of Bulk
11th January 1957
Page 32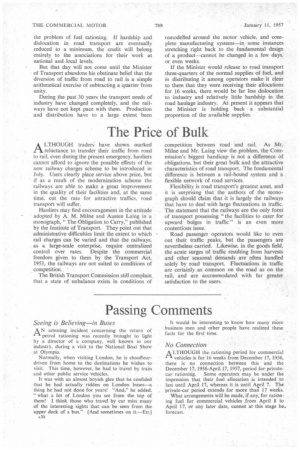 Page 32, 11th January 1957 —
The Price of Bulk
Close
A LTHOUGH traders have shown marked reluctance, to transfer their traffic from road to rail, even during the present emergency, hauliers cannot afford to ignore the possible effects of the new railway charges scheme to be introduced in July. Users clearly place service above price, but if as a result of the modernization scheme the railways are able to make a great improvement in the quality of their facilities and, at the same time, cut the rate for attractive traffics, road transport will suffer.
Hauliers May find encouragement in the attitude adopted by A_ M. Milne and Austen Laing in a monograph, "The Obligation to Carry," published by the Institute of Transport. They point out that administrative difficulties limit the extent to which rail charges can be varied and that the railways, as a large-scale enterprise, require centralized control over rates. Despite the commercial freedom given to them by the Transport Act, 1953, the railways are not suited to conditions of competition.. • The British Transport Commission still complain , that a state of unbalance exists in conditions of competition between road and rail. As Mr. Milne and Mr. Laing view the problem, the Commission's biggest handicap is not a difference of obligations, but their great bulk and the attractive characteristics of road transport. The fundamental difference is between a rail-bound system and a flexible network of road services.
Flexibility is road transport's greatest asset, and it is surprising that the authors of the monograph should claim that it is largely the railways that have to deal with large fluctuations in traffic. The statement that the railways are the only forni of transport possessing "the facilities to cater for upward bulges in traffic" is an even more contentious issue.
Road passenger operators would like to even out their traffic peaks, but the passengers are nevertheless carried. Likewise, in the goods field, the acute surges of traffic resulting from harvests and other seasonal demands are often handled solely by road transport. Fluctuations in traffic are certainly as common on the road as on the rail, and are accommodated with far greater satisfaction to the users.