Passing Comments
11th January 1957
Page 32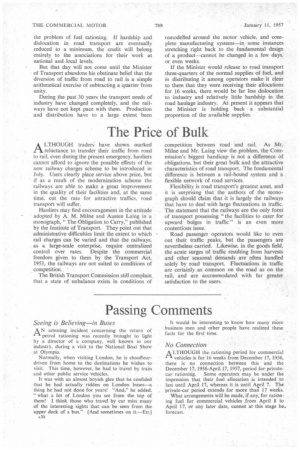 Page 33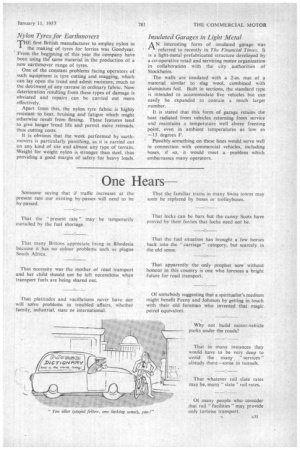 Page 32, 11th January 1957 —
Passing Comments
Close
Seeing is Believing—in Buses
AN amusing incident concerning the return of
petrol rationing was recently brought to light by a director of a company, well known in our industry, during a visit to the National Boat Show at Olympia.
Normally, when visiting London, he is chauffeurdriven from home to the destinations he wishes to visit. This time, however, he had to travel by train and other public service vehicles.
It was with an almost boyish glee that he confided that he had actually ridden on London buses—a thing he had not done for years! "And," he added, "what a lot of London you see from the top of them! I think those who travel by car miss many of the interesting sights that can be seen from the upper deck of a bus." [And sometimes on it.—Eol A30
It would be interesting to know how many More business men and other people have realized these facts for the first time.
No Connection
A LTHOUGH the rationing period for commercial
vehicles is for 16 weeks from December 17, 1956, there is no connection between this and the December 17, 1956-April 17, 1957, period for privatecar rationing. Some operators may be under the impression that their fuel allocation is intended to last until. April 17, whereas it is until Aril 7. The private-car period extends for more than 17 weeks.
What arrangements will be made, if any, for rationing fuel for commercial vehicles from April 8 to April 17, or any later date, cannot at this stage be. forecast.
Nylon Tyres for Earthmovers
THE first British manufacturer to employ nylon in
the making. of tyres for lorries was Goodyear. From the beginning of this year the company have been using the same material in the production of a new earthmover range of tyres.
One of the constant problems facing operators of such equipment is tyre cutting and snagging, which can lay open the tread and admit moisture, much to the detriment of any carcase in ordinary fabric. Now deterioration resulting from these types of damage is obviated and repairs can be carried out more effectively.
Apart from this, the nylon tyre fabric is highly resistant to heat, bruising and fatigue which might otherwise result from flexing. These features tend to give longer tread life and permit more retreads. thus cutting costs.
It is obvious that the work performed by earthmovers is particularly punishing, as it is ,carried out on any kind of site and almost any type of terrain. Weight for weight nylon is stronger than steel, thus providing a good margin of safety for heavy loads.
Insulated Garages in Light Metal
A N interesting form of insulated garage was
referred to recently in The Financial Times. It is a light-metal prefabricated structure developed by a co-operative retail and servicing motor organization in collaboration with the city • authorities of Stockholm.
The walls are insulated with a 2-in, mat of a material similar to slag wool, combined with aluminium foil. Built in sections, the standard type is intended to accommodate five vehicles but can easily be expanded to contain a much larger number.
It is stated that this form of garage retains the heat radiated from vehicles returning from service and maintains a temperature well above freezing point, even in ambient temperatures as low as —13 degrees F.
Possibly something on these lines would serve well in connection. with commercial vehicles, including buses, if so, it would meet a problem which embarrasses many operators.