Kibility with idardization
11th January 1952
Page 43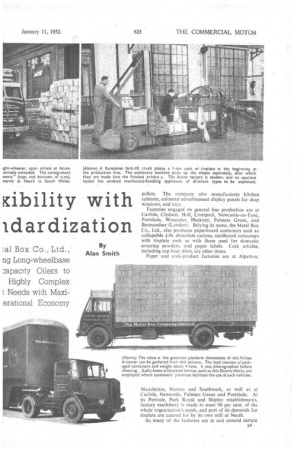 Page 42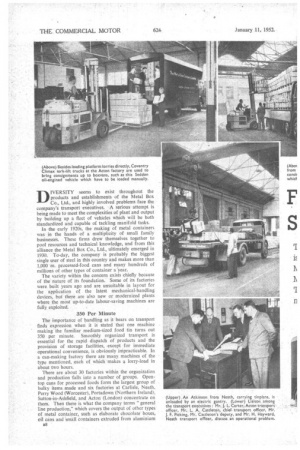 Page 44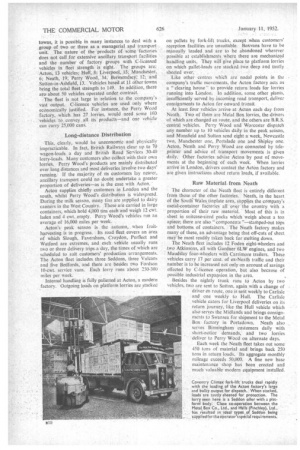 Page 45
Page 43, 11th January 1952 —
Kibility with idardization
Close
:al Box Co., Ltd., rig Long-wheelbase ..apacity Oilers to Highly Complex t Needs with Maxierational Economy
By Alan Smith DIVERSITY seems to exist throughout the products and establishments of the Metal Box Co., Ltd., and highly involved problems face the company's transport executives. A serious attempt is being made to meet the complexities of plant and output by building up a fleet of vehicles which will be both standardized and capable of tackling manifold tasks.
In the early 1920s, the making of metal containers was in the hands of a multiplicity of small family businesses. These firms drew themselves together to pool resources and technical knowledge, and from this alliance the Metal Box Co., Ltd., ultimately emerged in 1930. To-day, the company is probably the biggest single user of steel in this country and makes more than 1,000 m. processed-food cans and many hundreds of millions of other types of container a 'year.
The variety within the concern exists chiefly because of the nature of its foundation. Some of its factories were built years ago and are unsuitable in layout for the application of the latest mechanical-handling devices, but there are also new or modernized plants where the Most up-to-date labour-saving machines are fully exploited.
350 Per Minute
The importance of handling as it bears on transport finds expression when it is stated that one machine making the familiar medium-sized food tin turns out 350 per minute. Smoothly organized transport is essential for the rapid dispatch of products and the provision of storage facilities, except for immediate operational convenience, is obviously inipracticable. In a can-making factory there are many. machines of the type mentioned, each of which makes 4 lorry-load in about two hours.
There are about 30 factories within the organization and production falls into a number of groups. Opentop cans for processed foods form the largest group of bulky items made and six factories at Carlisle, Neath, Perry Wood (Worcester), Portadown (Northern Ireland), Sutton-in-Ashfield, and Acton (London) concentrate on them. Then there is what the company terms "general line production," which covers the output of other types of metal container, such as elaborate chocOlate boxer's, oil cans and -small Containers extruded from aluminium
B8 pellets. The company also manufactures kitchen cabinets, coloured advertisement display panels for shop windows, and toys.
Factories engaged on general line production are at Carlisle, Clydach, Hull, Liverpool, Newcastle-on-Tyne, Portslade, Worcester. Hackney, Palmers Green, and Bermondsey (London). Belying its name, the Metal Box Co., Ltd., also produces paperboard containers such as collapsible I-lb. chocolate cartons, cardboard containers with tinplate ends as with those used for domestic scouring powders, and paper labels. Cork articles, including cap liner discs, are other items.
Paper and cork-product factories are at Alperton,
Manchester, Morton and Southwark, as well as at Carlisle, Newcastle, Palmers Green and Portslade. At its Perivale, Park Royal and Shipley establishments, factory machinery is made to meet 90 per cent, of the whole organizations needs, and part of its demands for tinplate are catered for by its own mill at Neath.
As many of the factories are in and around certain B9
towns, it is possible in many instances to deal with a group of two or three as a managerial, and transport unit: The nature of the •products of sot* 'factories does not call for extensive ancillary transport facilities and the number. of factory groups with C-licensed vehicles in .fleet . strength is eight. The groups are: ActOn, 13 vehicles; Hull, ,S; Liverpool, 15:. Manchester,. 6; Neath, 1.9; 'Perry Wood,. 34; Bermondsey, 12; and Sutton-in-Ashfield, 13. Vehicles based at 11 other towns bring the total fleet strength to 149. In addition, there are about 50 vehicles operated under contract. The fleet is not large in relation to the company's vast output. C-licence vehicles are used only where economically justified. For instance, the Perry Wood factory, which has 27 lorries, would need . some 160 vehicles to convey .alt its products—and one vehicle can carry 25,000 cans.
Long-distance Distribution
This, clearly, would be uneconomic and physically impracticable. In fact, British Railways clear up to 70 wagon-loads a day and British Road Services 30-40 lorry-loads. Many customers also collect with their own lorries. Perry Wood's products are mainly distributed over long distances and most deliveries involve two days' running. If the majority of its customers Illy nearer, ancillary transport could no doubt undertake a greater proportion of deliveries—as is the case with Acton. •
Acton supplies chiefly customers in London and the south, whilst Perry Wood's distribution is widespread. During the milk season, many tins are supplied to dairy canners in the West Country. These are carried in large containers, which hold 4,000 tins each and weigh 12 cwt. laden and 4 cwt. empty. Perry Wood's vehicles run an average of 16,000 miles per week.
Acton's peak season is the autumn, when fruitharvesting is in progress. Its road fleet covers an area of which Slough, Faversham, Croydon, Purfleet and Watford are extremes, and each vehicle usually runs two or three delivery trips a day, the times of which are scheduled to suit customers' production arrangements. The Acton fleet includes three Seddons, three Vulcans and five Bedfords, and there are besides two Fordson 10-cwt. service vans. Each lorry runs about 250-300 miles per week.
Internal handling is fully palletted at Acton, a modern factory. Outgoing loads on platform lorries arcistacked
on pallets by fork-lift trucks, except when customers' reception facilities are unsuitable. Boxvans have to be manually loaded and are to be abandoned wherever possible at establishments where there are mechanized handling units. They will give place to platform lorries on which pallet-loads are stacked two deep and tautly sheeted over, ..
• Like other centres which are nodal points in the company's traffic movements, the Acton factory acts as a clearing house" to provide return loads for lorries running into London. In addition, some other plants, insufficiently served by incoming road transport, deliver consignments to Acton for onward transit.
At least four vehicles arrive at Acton each day from Neath: Two of them are Metal Box lorries, the drivers of which are Changed en route, and the others are B.R.S. central vehicles. Perry Wood and Worcester dispatch any number up to 10 vehicles daily in the peak season, and Mansfield and Sutton send eight a week, Newcastle two, Manchester one, Portslade one and Shipley one. Acton, Neath and Perry Wood are connected by teleprinter and advice of transport 'movements is given daily: Other, factories advise Acton by post of movements at the beginning of each week. When lorries arrive in London, drivers contact the Acton factory and are given instructions about return loads, if available.
Raw Material. from Neath
The character of the Neath fleet is entirely different from those of the other factories. Neath, in the heart of the South' Wales tinplate area, simplies the company's metal-container factories' all over "the country. with a proportion of their raw material. Most of this is in sheet in suitcase-sized packs which 'weigh about a ton apiece; there are also "components "—stamped-out tops and bottoms of containers. The Neath factory makes many of these, an advantage being that off-cuts of sheet may be most readily taken back for inciting down.
The Neath fleet includes 12 Foden eight-wheelers and two Atkinsons, all with Gardner 6LW engines, and two Maudslay four-wheelers with Carrimore trailers. These vehicles carry 17 per cent, of ex-Neath traffic and their number is to be increased not only on account of savings effected by C-licence operation, but also because of possible industrial expansion in the area.
Besides the nightly trunk runs to Acton by two vehicles, two are sent to Sutton, again with a change of driver en route, one is sent weekly to Carlisle and one weekly to Hull. The Carlisle vehicle caters for Liverpool deliveries on its return journey, like the Hull vehicle which also serves the Midlands and brings consignments to Swansea for shipment to the Metal Box factory in Portadown. Neath also serves Birmingham customers daily with short-notice demands, and two lorries deliver to Perry Wood on alternate days.
Each week the Neath fleet takes out some 450 tons of material and brings back 250 tons in return loads. Its aggregate monthly mileage exceeds 50,000. A fine new base maintenance shop has been erected and much valuable modern equipment installed. There are three pits and a mediumweight ramp, and highly skilled mechanics are employed on the service operations to keep the vehicles in first-class running condition.
There is no standard routine main tenance throughout the country-wide fleet: responsibility is in the hands of local managers, who lay accent on preventive systems of inspection. Repair depots at major establishments cater for.the vehicles of nearby factories. At Neath, maintenance is simplified by the almost complete standardization upon Gardner engines, one of which is held as a spare. Each day, chassis, batteries and tyres are inspected, and greasing is performed. Parts are replaced when required and not at set examination periods.
At 30,000 miles, a more thorough chassis inspection is carried out, together with a partial dismantlement and examination of the engine. Fuel pumps and injectors are checked at this period, a full working life of 250,000 300,000. miles being expected. Crankshaft grinding and cylinder sleeving are the only overhaul work contracted out.
At Acton, vehicle inspection is based on a four-week cycle, each vehicle being brought in at that interval for examination and decarbonizing if necessary. Greasing, washing and attention to tyres and batteries are Satur day morning tasks. Whesi engines call for major attention, they are replaced: a Bedford engine is held spare.
Body repairs are sent out. The repair depot also attends to the works trucks, which include Ransomes and Coventry Climax fork-lift appliances.
At Perry Wood, the different maintenance tasks are grouped into sections, each of which is applied at frequencies varying from one day to six months. The effect is that engines have a top overhaul and chassis a complete check every 15,000-16,000 miles.
Making Cheaper Deliveries
Costing bears strongly on the company's transport policy. Mr. L. A. Casfleton, chief transport officer, aptly described the employment of the fleet to me as
marginal." A minor reason for the fleet's existence is that a reserve may be available for dealing with emergency requirements, but its chief function is to make those deliveries which may be more cheaply effected directly than by employing an outside contractor—road or rail.
Schedules for the chief transport officer's scrutiny are compiled every month by each fleet manager. These cover the cost of every job carried out and show the savings creditable to the use of C-licence vehicles instead of outside carriers. To some extent, the saving is artificially inflated, as outside carriers quote special rates above the actual cost of carriage for the bulky consignments of packaged tins—" loads of air," as Mr. Castleton says. Nevertheless, the economy achieved by 149 vehicles is an incentjve to development and the fleet is being consolidated and reorganized as a nucleus for expansion: There is, of course, an economic limit to growth, for
empty running has to be considered. At present, with the fleet catering for 15-20 per cent, of the company's transport needs and covering 3m. miles a year, empty running amounts to 26 per cent. All traffic flows are therefore under constant sutveillance by the chief transport officer and his local officers, who, with teference to their castings, can see where additional C-licence vehicles can economically be put in. This requires careful consideration, as the machines to be acquired are quality vehicles above average in price.
Selecting Suitable Vehicles Much of the economy of the fleet results from the selection of the most suitable type of vehicle. Although most raw material is carried by multi-wheelers, it is distinctly advantageous foi lorries used normally for the delivery of finished products to be suitable also for the carriage of raw material. The vehicle-selection .problem, therefore, resolves itself into' choosing models with a generous weight capacity and a long platform.
The company is adopting Seddon 14-ft. 11-in. and 16-ft. 4-in, wheelbase and Vulcan 15-ft 3-in. wheelbase models, all of which are 6-tonners powered by Perkins P6 engines. The Neath fleet has been mainly standardized upon Toden machines, and Seddons will form the greater part of other establishments' .facilities, with a few Vulcans at selected points. The Seddon ;node's are adaptations of passenger chassis, having harder springing. The longer type, most suitable for the Carriage of bulky loads, is being supplied initially to the Perry Wood fleet: it has a 21-ft. platform and can carry a load of packaged containers weighing 4-5 tons.
These types will eventually, replace a heterogeneity of makes . and it is expected that besides _operational economies, there will be savings in maintenance expenses through ,standardization upon the P6 engine. About half, the fleet has so far been converted to oilers. The P6:-erigined vehicles average 16-17 m.p.g. and the 6LW types 10-11 m.p.g. Petrol-engined 5-tonners of various makes 'return 9-10 m.p.g.
It is often held that transport Costs are among the Most. outstanding items that can be reduced by amalgamating a number of fizdividual ,ehterprises. Whilst the Metal Box organization's transport problems are highly jnyolved, the substance of this contention js being realized by the application of a clearlY thought out and rational policy,—a.;policy which tufflh the need for financial economy and at the same time ineets the necessity of operational flexibility.